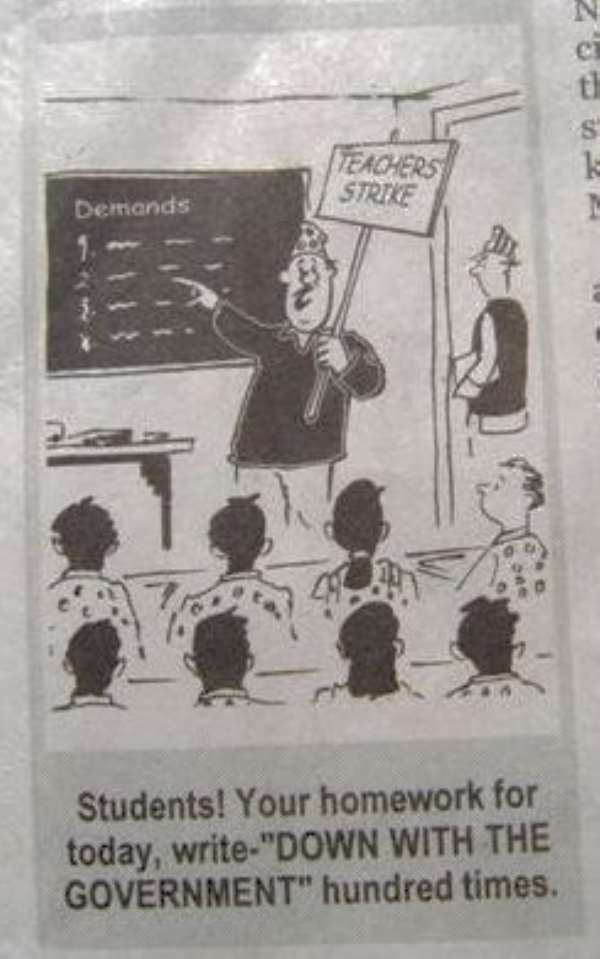 The re-opening of the 2006/2007 academic year for basic schools in the New Juaben Municipality on Tuesday was marred by the strike action embarked upon by some teachers. Basic schools in the Effiduase suburb of Koforidua were hard hit by the strike as both the Methodist and Presbyterian Basic schools were closed and the teachers reportedly told their pupils to go back home because they were on strike.
The Municipal Chief Executive, Nana Adjei Boateng, and the Municipal Director of Education, Miss Felicia Duku, visited some of the schools as part of the celebration of the second "My First Day at School."
At the Effiduase Presbyterian Basic Schools, they found that all the doors to the classrooms were closed and the Headteacher, Miss Gladys Darko who was with only a few teachers in her office, said they asked the pupils to go home and bring brooms and cutlasses to clean the compound the following day. At the Presbyterian Basic Schools, the chairman of the Parent-Teacher Association, Mr Joseph Osei Asiedu, told the officials that he learnt about the strike action from some pupils in town and came to verify.
The two officials visited some of the schools in the municipality including the Presbyterian Primary "A" and "B" Kindergatten and Basic One at Oguaa-Koforidua and the Akyeampong-Bonya Presbyterian Primary and Kidergatten to interact with the newly-enrolled pupils and distributed fruit juice and biscuits procured by the assembly to them. Nana Adjei Boateng who described the day as a memorable one for the pupils, urged the teachers to warmly receive them to enable them maintain their interest in schooling.