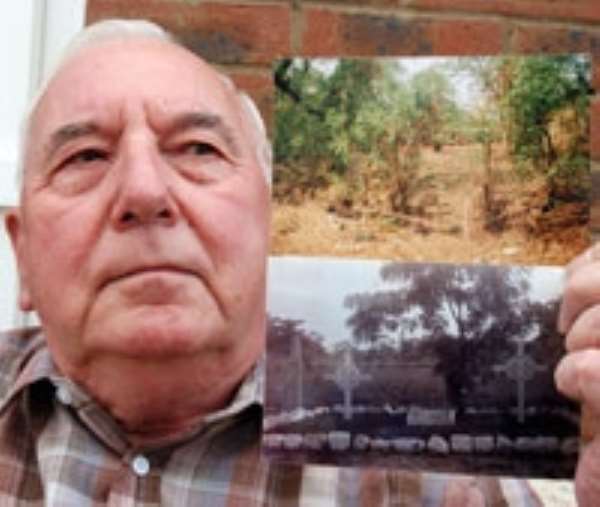 Bert Taylor with a picture of the graveyard where his parents are buried as it is now (top) and in 1931 (bottom). (2387b64)
A SPALDING man who made an emotional first trip to his parents' grave in Ghana is on a mission to restore the cemetery to its former glory.
Bert Taylor travelled to the town of Tamale in April to visit the grave-yard where his mother and father were buried following their deaths from yellow fever and gastric malaria in 1931.
Mr Taylor, of Bath Lane, has a picture of the graves taken in 1931, which shows a neat burial ground with two headstones and a memorial plaque in a fenced off area.
But he was shocked to find the municipal cemetery is now in a completely rundown state and has decided to pay to have it cleaned up.
He said: "I had photographs of my parents' graves and about six years ago I thought it would be nice if I could get out there and visit them. I managed to get in contact with a minister who was over there and he told me to write to the archdeacon.
"I did that and he managed to find the graves but unfor-tunately, with the costs involved, we weren't able to get out there until earlier this year.
"It was a bit of a shock when we did go because the graveyard looked so different to the photograph.
"Because it is a municipal graveyard they didn't have the money for its upkeep so it was completely overgrown.
"The fence is gone and it is being used as a rubbish dump. It's terrible."
Mr Taylor's father Albert and mother Dorothy were in Ghana to help build reservoir and drinking water distribution facilities and were on their way to the town of Tamale in 1931 when they were forced to stop because of a yellow fever outbreak.
They eventually managed to move into Tamale itself but unfortunately Albert contracted gastric malaria and died in hospital three days before Dorothy fell victim to yellow fever.
Mr Taylor said he was so shocked at the current condition of the cemetery during his visit to Ghana in April that he asked Anglican bishop of Tamale the Rt Rev Emmanuel Arongo if there was any way to get it restored.
The Rt Rev Arongo agreed that if Mr Taylor could provide the money he would arrange for a clean-up.
Mr Taylor said: "We were having a beer and discussing what we could do to help.
"The bishop said that if we could provide the finance he and the warden would organise a clean-up and get the graves sorted out a little bit.
"I have made a start but they have had trouble in Ghana because the rains haven't come and they couldn't touch the ground.
"They also had a wind storm in the bishop's home territory which blew the roof off his family's home.
"I was very impressed by the bishop but facilities are so basic. The cathedral is four walls and a corrugated iron roof. The bishop's office is an old building that looks like a temporary shack on a building site."