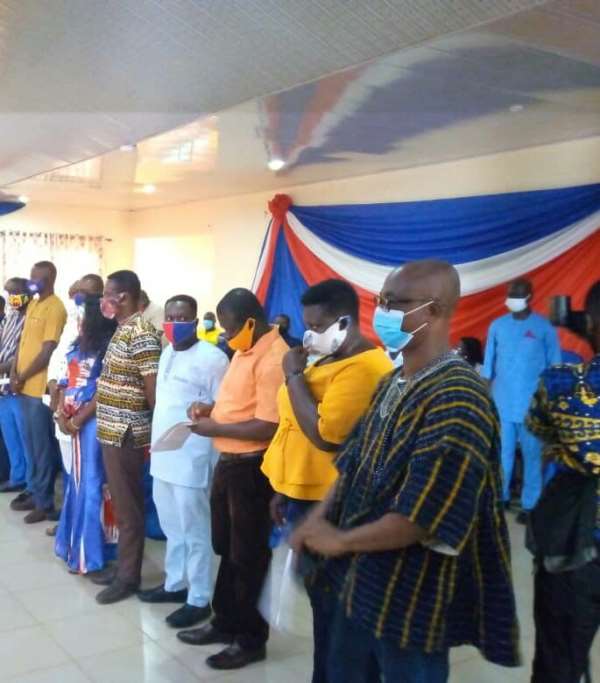 The New Patriotic Party (NPP) has inaugurated its Ahafo Regional campaign team to help the party secure victory in the region for the 2020 Presidential and Parliamentary polls scheduled for 7th December.
The campaign team members numbered 35 were sworn into office by the party's Second National Vice Chairman, Fredrick Fredua Anto with the help of the National Youth Organizer and Deputy General Secretary, at a short inaugural ceremony held at the Regional Coordinating Council(RCC) in Goaso, capital of Ahafo Region.
Addressing the campaign team, the Second National Vice Chairman, Fredrick Fredua Anto popularly called F. F. Anto tasked the team to design strategies to propagate the good works of the NPP led government headed by His Excellency President Nana Addo Dankwa Akufo-Addo to the people of the region which will propel them to vote massively for the party (President and Parliamentary Candidates).
In their additional task, he told them to inaugurate campaign team members for all the six constituencies (Asunafo North, Asunafo South, Tano North, Tano South, Asutifi North and Asutifi South), whereupon the constituency campaign team will, in turn, swear in both electoral area and polling station campaign teams.
He explained that the President has Ahafo at heart per the developmental projects currently been rolled out after it was created as a region. "So the campaign team members have no excuse not to sell good message to the people to vote massively to secure a win for the party."
F. F. Anto assured them of support from the National Executives to assist them to deliver for the party as expected. The Economic Advisor to the Vice - President, Dr. Gideon Boko presented ten(10) bran new motor bikes to the regional campaign team to help facilitate their work to secure victory for the party.
The Regional Chairman who was appointed as the Regional Campaign Manager, Kwabena Owusu Sekyere thanked the National Executives for entrusting them to lead the NPP's Ahafo Regional campaign team for this year's general elections.
According to the Regional Campaign Manager, all efforts will be put in place by the campaign members from the regional to polling station level to push Ahafo residents to vote for the party.
" Already we are on grounds working and from the look of things Ahafoman is for President Nana Addo " he stated.
Kwabena Owusu Sekyere said currently the NPP has four parliamentary seats out of the six in the region and all measures are in place to achieve the 6/6 agenda so there is no cause of alarm.