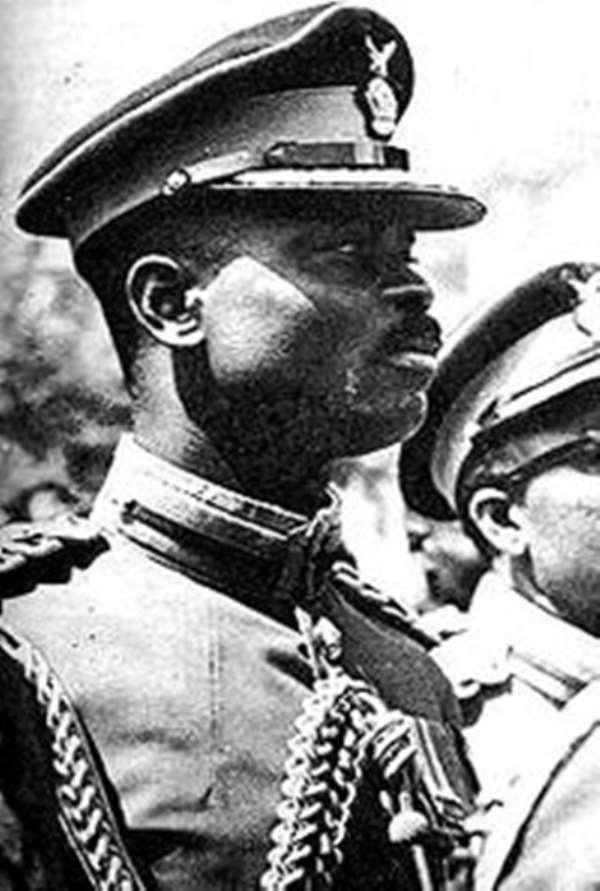 Lt. General Akwasi Amankwaah Afrifa
On Tuesday, 26 June 1979, I was returning from the Kumasi Manhyia Polyclinic, if my memory serves me right. It was around 10:00 to 11:00. On reaching Alabar, a saw a huge crowd gathered in the street in front of a house. I heard people talking and saying, a certain woman living in the house is alleged to be hoarding essential commodities in the house. Therefore, some soldiers have come into the house to conduct a search and are threatening to set dynamites up to blow up the house if goods are found hoarded in the house, they said.
I could also hear a few of them, their tribe withheld, gleefully say, in quote, "Afrifa se 3ye barima, wane atena ne binimu". This translated into English somehow means, "Afrifa claims to be a bold man, he has defecated and sat in it". This insinuating proverb is explained thus, "Afrifa claims to be a bold man but he has met his comeuppance". I did not get what they were saying but I could not bring up myself to ask what their statement was regarding.
After standing among the crowd for about twenty minutes, I made a move home. It was when I reached home, that I heard on the news at 13:00 that Lt. General Akwasi Amankwaah Afrifa, had been executed by firing squad in the wee hours of Tuesday, 26 June 1979, along with other five military commanders. They were, General Fred Akuffo, also a former Head of state and Major General Robert Kotei, Colonel Roger Felli, Air Vice Marshal George Yaw Boakye and Rear Admiral Joy Amedume.
Immediately I heard the announcement, a cold chill was sent up my spine with my entire skin filled with goose bumps. My legs gave out. My body nearly shut down. What a complete shock!
I asked myself, why only Afrifa from the National Liberation Council (NLC) military government that overthrew Dr Kwame Nkrumah and his Conventional People's Party (CPP) government. He had retired from the military and the government since 1969 so why kill him? After all, he was not the leader of the initial NLC government but General Ankrah who was still alive.
When he was arrested on 16 June 1979, there were many speculations. Someone were alleging he had stolen a gold sword from the Castle when his government overthrew Dr Nkrumah. Others were saying he had written to General Fred Akuffo to kill Rawlings when he was arrested for his unsuccessful coup attempt on 15 May 1979 because Rawlings is a rascal and a known dangerous person. There were also those saying Rawlings was scared of Afrifa because as brave as he was, he could in less than no time arrange for a counter-coup to get rid of Rawlings. Others again were saying, Captain Boakye Gyan could have instigated the execution of Afrifa for he, Afrifa, having the counter mutineers, Lt. Samuel Arthur, Lt. Moses Yeboah, who killed General Kotoka executed by firing squad while Lt. Osei Opoku was imprisoned for thirty years. They said, Lt. Yeboah was Boakye Gyan's relative hence paying Afrifa back in his own coin when the tables overturned to favour Boakye Gyan.
"Operation Guitar Boy" was the code-name for the attempted coup d'état on 17 April 1967 in Ghana by the above mentioned junior officers and others to overthrow the NLC government.
Whatever the public perceptions were, they were all completely fallacious. From the horses own mouth, thus neigh, Lt General A. A. Afrifa was executed out of envy of a certain yet, to be known military General, a respected friend of Rawlings in the army.
The fact that Afrifa had been seen in brighter light in the eyes of the Western world, especially the alleged American Central Intelligence Agency (CIA) that encouraged him to overthrow Dr Kwame Nkrumah, assisted by his Superior boss General Kotoka, this unknown envious latter military General felt Afrifa must be executed to pave way for him to rise to find favour in the eyes of the CIA.
Indeed, Rawlings was naive as he said. Although a junior officer, once a leader, he could have resisted the General knowing Afrifa was not in his bad books. Maybe, it is different in the military government or else, once appointed a leader with power conferred upon you, everyone else succumbs to your authority.
It is just unfortunate that the General cannot be mentioned, although he is still alive. However, he will meet his nemesis either alive or in death for allowing envy to consume him to culminate in his absolute demand for an innocent blood to be spilled.
Mr Rawlings must be a gentleman enough to apologise for his naivety that forced him to execute an innocent soul.
For all that he, Rawlings, came to do, killing innocent people both during the Armed Forces Revolutionary Council (AFRC) and the Provisional National Defence Council (PNDC) eras as Head of State, he could not achieve his objectives of ridding Ghana of corruption, making poor people become equal to rich people but rather, he has introduced much more corrupt people into the country by his own handiwork, founding the National Democratic Congress (NDC).
Just look at the super corrupt persons he has created in the NDC and the babies with sharp teeth, by courtesy of himself. All the military commanders he killed, their malfeasances put together cannot rival that of John Dramani Mahama and his family. Therefore, it will be well deserved of his integrity to remorsefully apologise to the families and relatives of all those he killed for absolutely wrong reasons. His NDC governments and party faithful have rendered it nonsense any good reason he had to stage those two successful coup d'états. Worse corrupt practices have infested the members of his NDC party like maggots in pools of toilet.
Rawlings must redeem his image by rendering a public apology to the bereaved families and Ghana for ushering in a far worse corrupt group of leaders than those that he callously senselessly had them executed by firing squad.
Rockson Adofo
Thursday, 20 August 2020