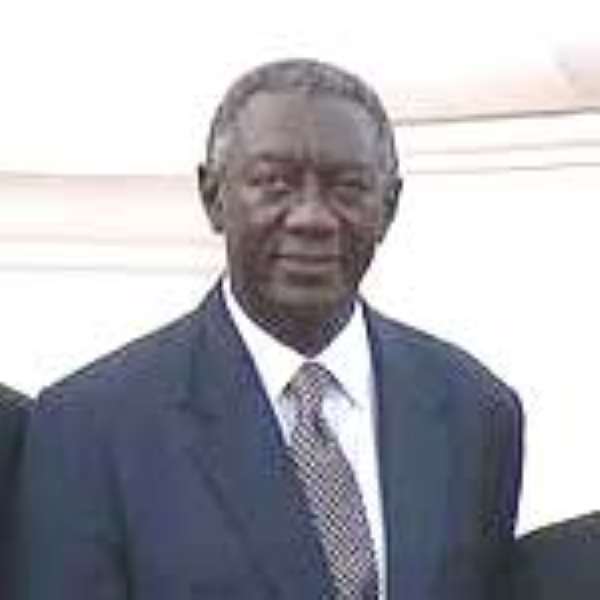 Ghanaian President, John Agyekum Kufuor
President John Agyekum Kufuor has asked Ghanaians to agree to be realistic about petroleum products' price increases to prevent dislocating the economy. "If we do not realistically recognise that the suppliers have to stay in business, the economy would collapse," he said, when addressing a National Convention of AGLOW International, Ghana, at the Kwame Nkrumah University of Science and Technology (KNUST), Kumasi in the Ashanti Region, yesterday.
The price of a barrel of crude oil on the world market currently is beyond the 70 dollar mark. President Kufuor said the recent price adjustments of the ex-pump prices were not due to the fact that the "Government is uncaring" and called on all to stop doing politics with it. He said while it was economically wise to let the prices go up, the Government appreciated that it would be humanly unfeeling if policies and measures were not taken to mitigate the effects on the society. "We would find ways and means to keep the country afloat, despite the turbulence around us. You should, therefore, do away with pessimism."
President Kufuor said the fact that inflation had been held down and interest rates kept going down notwithstanding the increases in crude oil prices, showed how resilient the country's economy was.
He, however, noted that the progress made by the Government had the hand of God in it, saying the debt cancellation and Ghana's selection to benefit from the Millennium Challenge Account among other good things the nation was experiencing were things that do not happen ordinarily. This is not something we should ignore. "Let us appreciate the mercies coming our way. We should continue to pray and have faith in God."
The President reminded them that as mothers they should ensure that their children were imbued with the fear of God to enable them to grow to become responsible adults. He commended AGLOW, Ghana, for the construction of a Women Training Centre, to provide the unemployed and out-of school girls with employable skills to make them economically self-supporting.
President Kufuor gave a 50 million-cedi donation to support the project. Mrs Gifty Afenyi-Dadzie, a Member of the Council of State, said in a sermon that, the rebuilding of the country would take place with the power of God and that no negative pronouncements could prevent this from happening. "God's glory is going to shine on the nation as we celebrate the Golden Jubilee. Let us have confidence in God and trust that better days are ahead."
Mrs Dorothy Danso, President of AGLOW, called on all those who had not registered with the National Health Insurance Scheme (NHIS) to do so since that was the only way they could have access to quality health care.
The theme for the three-day convention is "Pressing onto a Higher Ground."