The Suspicious Firing of the Auditor-General Must Not Scare off Vigilant Civil Servants and Citizens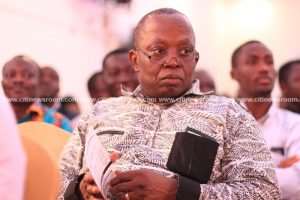 Auditor-General, Mr. Domelevo
It is most unfortunate that the very dedicated and diligent Auditor-General, Mr. Domelevo, has been 'Trumped'. That is to say, the Executive has fired him under shady circumstances to insulate itself from Mr. Domelevo's patriotic scrutiny of how the Government and its cohorts are handling our revenues and other assets.
If any Government would use the flimsy excuse of vacation- time accumulation by a devoted, hard-working, diligent, honest Civil Servant of immaculate performance at his or her job, especially, in the Inspectorate, to push him or her out of office, as was dealt to Mr. Domelevo, folks could liken it to how Trump fired various Inspectors-General in the USA to get them off his crooked back.
There is no amount of benign reasons the Akufo-Addo Government gives that could settle the suspicion of many Ghanaians that Mr. Domelevo was fired because the Government did not like his aggressive but necessary monitoring of the Nation's Assets. His scrutiny seemed too precise for the Government's comfort.
If nothing at all, the timing of his exit raises a host of worrisome questions. It particularly strongly suggests how fearful the Akufo-Addo Government had been of him. Now that he is gone, Ghanaians may have to concede that the Government would have less impediment in looting the Nation as much as it wants.
The case of Martin Amidu as a Special Prosecutor bewildered many a Ghanaian. Adding the case of Mr. Domelevo's firmly establishes that the Government does not want any entity to tightly monitor how it deals with our Finances and Assets.
However, I'd sound a serious warning to the Regime not to take Ghanaians for a ride with the exit of Domelevo because the Public has become more alert, and would do whatever it takes to expose any freakish fraud and corruption it engages in.
I strongly encourage all decent, patriotic Ghanaians to be more vigilant than ever before to follow the money and see where it lands. Our Assets have long been looted by these dubious, crooked Politicians who cannot stand probity and accountability and see in any honest Ghanaian a threat to their thievery.
I'd take this opportunity to thank Mr. Domelevo for his outstanding selfless patriotic duty to the Nation, and wish him the best for the rest of his life. But I'd also plead with him that should the Nation need his services again, in one form or another, he should do well to honor our call for help to save the Nation's Economy. His ouster must not dampen the aspirations of any honest, patriot that would like to help the Nation via the Civil Service.
Long Live Ghana!!!