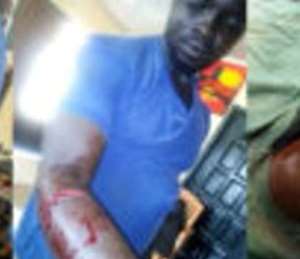 Prosper shows his wounded hand
A brawl between two friends over a disputed land at Elobonkata in the Ahanta West Municipality of the Western Region turned bloody last Sunday.
Solomon Arku and Kwaku Prosper, both in their late 30s, are currently in critical condition and on admission at the Effia-Nkwanta Regional Hospital in Sekondi and the Agona Nkwanta Health Centre respectively after engaging in a brutal machete fight. They both sustained deep wounds on their bodies.
District Police Commander DSP Valentine Akporsu said Solomon Arku was working on his farm in the early hours of Sunday when Kwaku Prosper suddenly appeared on the farm with a sharp machete.
Prosper questioned Solomon about the land which did not belong to him and this led to heated exchanges between them, and in the process Prosper slashed the right shoulder of Solomon with the sharp machete.
Solomon managed to collect the machete from Prosper and also inflicted wounds on his hands and back.
According to the Police Commander, the case was purely a land litigation issue and had nothing to do with chieftaincy issue as had been perceived.
"This case has been on our table for a long time. They have been having litigation about that particular land. The case has even reached the Regional Police Commander," he said.
He said the police were investigating the matter and would not spare any of the culprits.
---Daily Guide