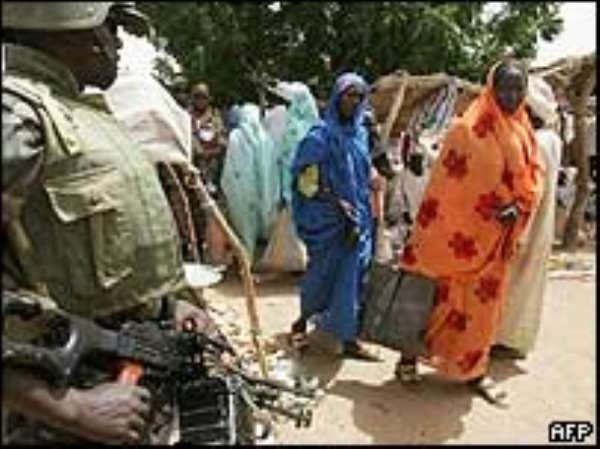 An extra 3,000 peacekeepers are to be sent to Sudan's Darfur region in a bid to contain the raging violence, the African Union has told the BBC.
Some 7,000 AU troops are already in Darfur but AU peacekeeping head Said Djinnit said the numbers would be increased to 10,000.
The move comes as the United Nations is in talks with Sudan about taking over the peacekeeping operation.
Sudan is resisting these plans, saying the extra money should go to the AU.
It is expected that the AU troops will form the basis of the UN operation if it ever goes ahead.
At least 200,000 have died in the conflict in the past three years, and two million people have been displaced.
Meanwhile, the World Food Programme has said it only has half the money it needs to feed some six million people in Sudan.
This number also includes south Sudan, still recovering from a 21-year war which ended last year.
Some Sudanese officials see the hand of the US behind the UN effort and they are right to some extent, says BBC world affairs correspondent Mark Doyle, who is travelling with the UN delegation.
However, the UN says it will not deploy peacekeepers without Sudan's approval, but reiterated that it must act to stop the killings.
Last month's peace deal between the government and the largest rebel faction in Darfur has failed to stop the violence, as other rebel groups and pro-government militias have continued to stage the attacks.
Sudanese rebel forces took up arms in February 2003, accusing the government of discriminating against Darfur's black Africans in favour of Arabs.