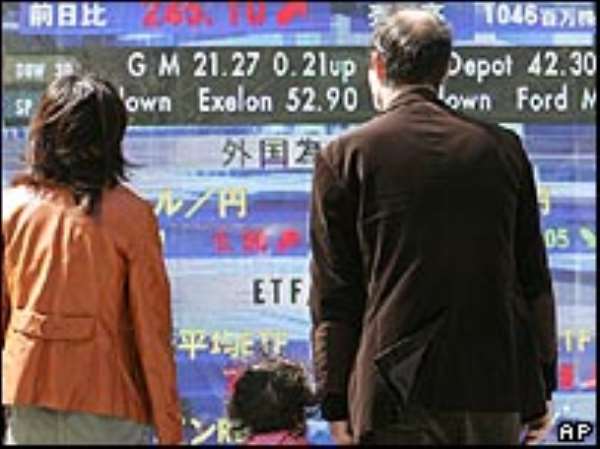 Japanese shares have fallen to their lowest level for six months as inflation fears in the US continue to unsettle investors around the world.
The benchmark Nikkei index fell 1.8% to end trading at 15,096.01, its lowest closing mark since last November.
The drop was prompted by a second successive day of selling on Wall Street after Fed boss Ben Bernanke acknowledged inflation concerns.
In Europe, shares in London and Frankfurt made slight gains early on.
Knock-on effect
Investors are concerned that moves to curb inflation in the US could stifle economic growth in the world's largest economy.
This could have a knock-on effect on the global economy, at a time when high oil prices are already putting a strain on economic output.
"The market is now beginning to be wary of the possible risk that the US economy could be exposed to the risk of stagflation, that is a combination of economic stagnation and inflation," Shigeo Kikuchi, an analyst at Takagi Securities, told the Agence France Presse news agency.
"As long as such fears are out there, the local market will be pressured by sustained selling from large overseas investors, such as hedge funds, as they accelerate capital repatriation back to their home countries."
Inflation worries continue to prey on global stock markets with US, European and Asian shares seeing substantial falls in recent days.
The benchmark Dow Jones index in the US fell below 11,000 for the first time since March during Tuesday trading - although it later recovered slightly to close at 11,002 - after seemingly hawkish comments by Mr Bernanke on inflationary pressures.
His comments raised the prospect of further interest rate rises.
Worries that US consumer spending could be undermined by rising prices hurt shares in Japanese exporters in the tech and car sectors.
Toyota, Honda and Nissan all saw their shares fall in value while Advantest and Sony were among other losers.