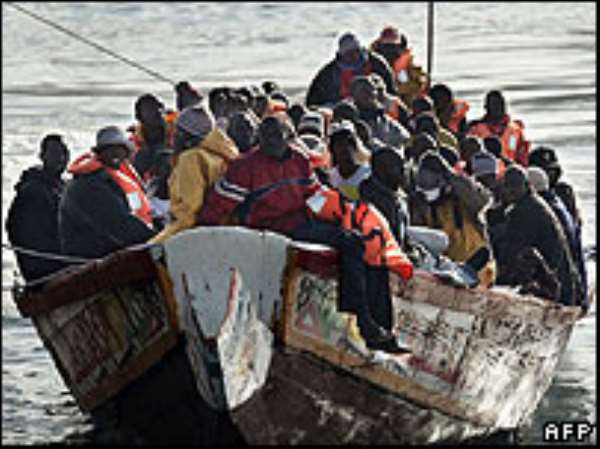 Nearly 200 million people now live outside their country of origin - up by about a quarter since 1990, a United Nations report on migration says.
The report by UN Secretary General Kofi Annan says most migrants have gone to rich countries - one in five of them to the US.
In some countries money sent home from abroad accounts for a large proportion of the national income.
Mr Annan said migration was a now a major feature of international life.
He described his report to the UN General Assembly as an "early road map for this new era of mobility".
His report found there were an estimated 191 million migrants around the world in 2005. This compares with 155 million in 1990.
Most migrants moved to wealthy countries, although some 75 million people moved from one developing country to another.
Money sent by wire transfers amounts to a high share of national income in the Philippines and Serbia and Montenegro.
'Engine of history'
"International migration, supported by the right policies, can be highly beneficial for the development both of the countries they come from and of those where they arrive," Mr Annan said.
But, he warned, these benefits "are contingent on the rights of the migrants themselves being respected and upheld".
Mr Annan's report also highlighted the risk of "brain drain". An estimated 60% of the highly educated people of Guyana, Haiti and Jamaica now live abroad.
The report proposes setting up a permanent forum on the issue so governments can compare their different policies.
The report found that Europe hosted 34% of all migrants in 2005, North America 23% and Asia 28%, with 9% in Africa, 3% in Latin America and 3% in Oceania.
Meanwhile, senior African and European officials have drafted a joint plan to tackle the growing crisis over illegal immigrants making dangerous journeys from Africa to enter Europe.
Their plan, to be formally adopted at a conference on migration in Morocco next month, includes tougher preventative measures with aid to encourage young Africans to remain in their homelands.
But Senegal Interior Minister Ousmane Ngom told the meeting in Dakar that migration could not be eradicated as it "remains an engine of history" which has some "immense advantages".