Herculean Task Vrs. Miracle: NDC Winning The 2020 Elections?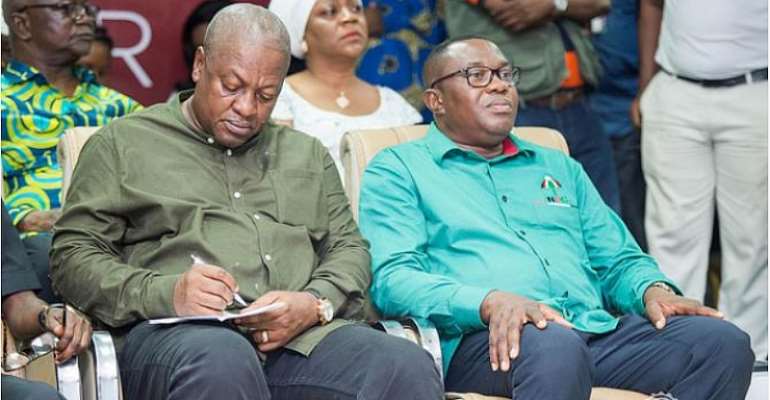 Another election year is here with us and every credible political party is gearing itself to contest the highest office of the land as well as parliamentary seats. Ghana is riddled with many political parties but two main political parties stand out: NPP and NDC.
These two political parties had dominated our political discourse for over two decades and there is no immediate sign of a third force. The likes of CPP, PNC, NDP, PPP, and others are just auxiliary political parties supporting the two major parties.
In December 2016, the ruling NDC suffered a monumental defeat of a historical record. They lost heavily to then the opposition NPP, now incumbent, having lost more parliamentary seats, their leader John Dramani Mahama falling to over one million votes to Akuffo Addo, the then the opposition leader. It will interest you to know that the level of confidence that NDC approached the 2016 elections with was 'a damn deal'.
The "Onaapo" story was popular among many Ghanaians and it was clear on the walls that NPP might be slipped the third time into opposition. Unfortunately, the NDC touted the development agenda and the handsomeness of their leader fell short with Ghanaians and were shown a painful exit.
It was one of the shocking moments in our electoral history since the onset of the fourth republic. An opposition party defeating an incumbent government, with such a record margin, became the first in history: a record that might take decades to break.
Now the NDC is set to contest the 2020 elections with no stone unturned. Despite the whooping defeat in 2016, they still believe NPP lied their way through to power and that Ghanaians had clearly seen the difference and will surely apologise to Mahama by reelecting him into office. This spirit of hope had resonated with many NDC party faithful and they are campaigning vigorously towards winning. We have seen their flag bearer engaged in a series of digital conversations trying to solve the problems Ghana on social media; hoping to justify his credibility with Ghanaians. It will interest you also to know that many NDC die-hards had confidently maintained that NPP will descend into opposition come December 2020. Indeed, the ONAAPO Spirit had been rekindled among the NDC and are somewhat convinced that the coming elections is a cool chop for them.
Well, no one will grudge them for having such level of confidence. At least, no political party will enter into a competitive election with the mindset of losing. Unfortunately, NDC claims of winning this year's election must be scrutinized to bring out any form of possibilities in the claims.
One, a *herculean task* awaits the NDC as they enter into an election short of 69 parliamentarians. This means that NDC will need to add up 69 additional seats to their current seats all things being equal and even go ahead to win additional seats before they can hold the majority in parliament. In short, NDC will need over 70 seats, provided they are able to maintain the current seats that belong to them.
Another herculean task is that the NDC lost the 2016 elections with close to 1 million votes.
They will have to regain not less than seven hundred thousand (700,000) votes in order to win the 2020 elections provided they will maintain the votes they won in the 2016 elections. These two herculean tasks might haunt the NDC in their close door meetings because it is a reality they cannot pretend about. It is certain that all things being equal too, the NPP might maintain most of the 69 seats they hold now and even regain additional seats. This indeed will affect the fortunes of the NDC.
The people of Ghana are used to expecting miracles in many things that they do. Perhaps, the NDC is counting on some divine intervention to win the 2020 elections and not the realities on the ground. Despite they continue to chastise the NPP government of improprieties, they know very that some policies that had been introduced by the government will cost them their sweat. The Free SHS is a monumental breakthrough for many parents and families and NPP will reap a huge capital from the move.
Besides, Ghanaians are used to 8 years for every party that comes to power, and this historical trend might not change easily in this year's election. So clearly, NDC is counting on some miracle as part of their winning plans. Perhaps, some luck somewhere will play out for them for Ghanaians to pity them and grant them marginal victory over NPP.
It is certain that the 2020 elections will not favour the opposition NDC. They are doing their best but their best might not be enough to wrestle power from the NPP. They will have to cross the most difficult hurdles ever or had to counts on some miracles as part of their many hopes before winning this year's election.