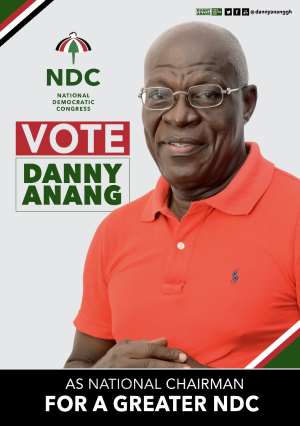 Danny Annan
Mr Danny Anan, an aspiring National Chairman of the opposition National Democratic Congress(NDC) has been with the party since its formation on June 10, 1992.
As a member of the party, he has served to the best of his ability over all these years impacting on the numerous successes of the NDC.
Mr Anan has held different positions in the party since its formation till date contributing to the growth of the party at all times.
He was then the chairman of Ledzokuku constituency but was made the Greater Accra deputy regional organiser the same day the party was formed.
He contested and won the Greater Accra regional chairman in 2005 where the NDC got 18 seats out of the 22 constituencies.
According to sources, Mt. Anan introduced the grassroots campaign to the late former President, John Evans Atta Mills which really had an impact on the party's 2008 elections which saw the NDC won.
He was later made the party's National vice chairman from 2009-2014 where he attained the acronym "The Available and Champion chairman" due to his closeness to the party's grassroots supporters.
Uncle Danny, as affectionately called is currently a member of the Complaints and Conflicts Resolution committee and has supervised in resolving of most cases in the party.
Mr Anan is, however, one of the party leaders who has not had any allegations of corruption against since he has never been appointed into any public office as compared to some of his contenders.
He is therefore of the view it is time to rebuild, resource, redirect and also recapture power for the NDC hence the need to elect him to be the Chairman of the party for victory come 2020.
He is placed Number #1 on the ballot paper to be used for the party's upcoming National executives elections.