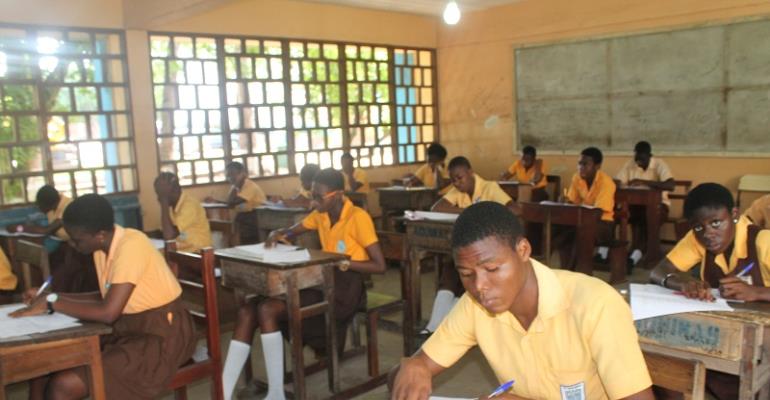 BECE - which is the Basic Education Certificate Examination is an eternal examination which marks the end of the junior high school education. The result of the examination is used to give students admission into secondary or vocational schools in Ghana.
Ghana Education Service conducts this exam yearly in the month of June and it only last for a week unless there is postponement or cancellation.
The Schools that are approved by Ghana Educational Service registers candidate who are in their third year of junior high school to take part in this examination.
Registered students are given the chance to choose four senior high schools they would love to attend.
School placement is done by the Computerized School Selection and Placement System (CSSPS) and successful candidates are given schools base on their grades. Meanwhile, candidates who fail to qualify would have to find their own placement in schools with vacancies.
Subjects Taken For BECE
The following are subjects taken for BECE:
Mathematics
Integrated Science
Social Studies
Religious and Moral Education (R.M.E)
French
Ghanaian language (Any Ghanaian language offered at candidate's school)
Basic Design and Technology (B.D.T)
Information Communication and Technology (I.C.T)
WAEC Grading System For BECE
Under the WAEC grading system, A1 is Excellent, B2 is Very Good, B3 is Good, C4,C5,C6 are define as Credit, D7 and E8 is Pass and F9 is Fail.
If you want to have the new WAEC grading system on your phone, tablet or computer, Click here.
BECE Result Checker
Candidates who would want to check their BECE result when it is ready will need to purchase a WAEC scratch card from any of the scratch card outlets and then follow the instructions set below:
Visit the WAEC BECE Result Checker Online Portal
Enter your Index Number.
Select the Type of Examination (e.g. BECE May/June).
Select your Examination Year eg. 2017.
Enter the Card Serial Number found on the reverse side of your Scratch card.
Enter the 12-digit Personal Identification Number (PIN) on your Scratch card eg. 012344678912.
Confirm your Index Number and Examination Year. This is to ensure that your examination information is correct.
Click to Submit your request and wait for the display in the popup window.
How To Prepare For BECE
When one has an exam to take, it is quite normal that he may feel tense. Some students, however, get so nervous that they lose concentration and as such fail. There are many factors which contribute to this failure, and one of them is the inadequate preparation for the exam.
How can you prevent this from happening? As a student, you need to have an effective strategy in preparing for exams. These strategies will give you confidence that you have covered quite enough and can put you in a right frame of mind for the exams.
Push aside negative thoughts: Negative thought is a very bad thing. Push aside all negative thoughts. Instead of thinking "how am I even going to pass this exam." Or "this is such a difficult subject." Think rather "this is something I have learned and I have prepared very well for the exam." Avoid people who look anxious themselves or have negative thoughts about the exam, rather look for the confident ones and go talk to them before the paper.
You can practice breathing slowly as a means of calming yourself down when the paper is placed before you. And remember that the fear is only in your mind so you can control it.
Don't wait till last minute: Usually, the date and time schedule for your BECE would be announced to you. The reason for this is to allow you to have sufficient time to prepare in advance. Never wait till the very day before the exam for you to review, for cramming never yields positive results. When you start reviewing your lessons as soon as possible, you'll be able to cover more, giving you more self-assurance you'll pass with flying colors.
Form a study group: Study group has one advantage that is to divide the workload to members so each person can share what they've learned about a topic. This way, time and energy are saved, enabling you to cover a lot of things without wasting too much time on each one of them. However, you must be careful of the study group you are joining. It is important to make sure that each member is serious about preparing for the exams, and not just there to have fun or take it as an opportunity to have a bonding with friends.
Study with a strategy: Each student learns in a slightly different way as compared to others. It is important for you to study how best you lean and to stick with that. Never underestimate the power of notes taken, especially keywords. Say them in your own words, sentences, and paragraphs to make sure you have fully understood what they are trying to say. Try to recall what you have studied every now and then to make sure everything is retained in your memory.
Solve past questions: One of the most effective ways of preparing for BECE is to practice past questions. Why? Because almost all exams questions are based on examination syllabus so in effect all your exams questions will most likely be past questions that have been rephrased or repackage. By solving examination questions, you can get used to the format of the exams and can as well help you identify areas that you need to work on.
If you are looking for BECE past questions to help you prepare for your exams, you can check this out https://www.becepastquestions.com/
Don't rely on apor: Most students in their attempt of passing BECE go for papers claim to be the very paper for the exams, usually called apor and they try to study at the last hour. That is a bad approach. Don't attempt studying right before the exams. You will get confused and feel unprepared which would not be good for you. Never think studying just before the exams or looking at some apor right before the exam would help.
Always be your own savior and never rely on anything or anyone.
Conclusion
There is no shortcut to getting good grades in BECE. In general, you'll need to study hard and prepare well in advance to perform well.
Attention should also be given to both theory and practical work and parents should monitor the progress of their wards, and help to ensure the completion of syllabuses before allowing the child to sit for the exams. As a parent, you wouldn't want to go through the agony of seeing your child fail the BECE exams, therefore, you should take advantage of systems and tutors available purposely to enable your child pass BECE exams with ease.
How prepared are you for BECE? Visit our site and leave your comment, here http://www.excellenthomeclasses.com