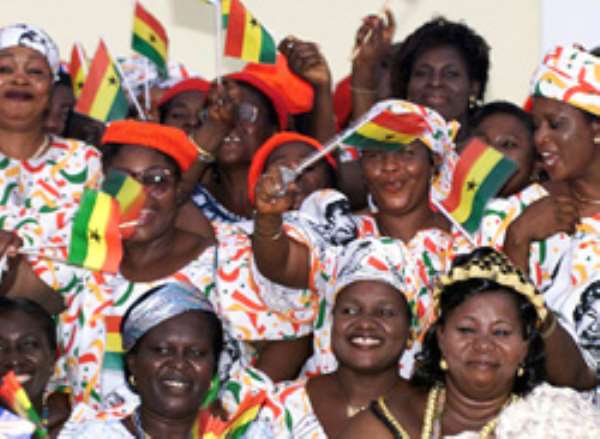 'We Want the VP Slot in 2008' Some influential women political and civil society figures have called on political parties to reserve at least the 2008 Vice Presidential slot to women.
Speaking in separate interviews with the ADM in Accra, the women from both the ruling New Patriotic Party (NPP) and the main opposition party, National Democratic Congress (NDC), said women in political and managerial positions have proved that they can occupy the highest office of the land - the presidency.
The NDC Member of Parliament for North Dayi constituency, Akua Dansua, said the 2008 presidential slot should be the turn of women irrespective of political party.
"In 2008 any political party that does not give at least the vice presidential slot to a woman should not be supported by women," she said.
Madam Dansua however cautioned that care must be taken when it comes to selection of women for such position. She said competence, capability and zeal must not be glossed over when it comes to selection of women for such sensitive positions.
She said women have been "exploited" for far too long by the political parties. "When it comes to cheering and organizations they rely on us to do it for them. But when it comes to occupying these positions the men do not think we are competent enough.
However, I can assure that there are more women out there who are better qualified and competent than some of the men," she said.
The MP said this could only be achieved when women have a common front. "I want to plead with Ghanaian women irrespective of political affiliation to stand on their feet and tell the political parties that this is what we (women) want otherwise we would not support the men. Then they would sit up."
Madam Dansua told her colleague women that it takes hard work and strenuous effort to get to that position. "When you look at the country's population we make up 51% of it. If all things were equal we should have had women presidents or at least a vice president by now. But the socio-cultural environment does not encourage us so much. We then have to make the extra effort to get to that position," she said.
Although the Minister of Women and Children Affairs, Hajia Alima Mahama, concurs with the NDC MP, she thinks 2008 should not be the deadline. She told the ADM that women must aspire to reach that level but must use the bottom-up approach.
"It is important that we are in the local government structures such as the district and metropolitan assemblies all the way to parliament. If we have more women in executive positions as chief executive officers, chairpersons of boards and MPs we would be able to achieve what we want," she said.
Dr Rose Mensah-Kutin of Abantu for Development, a gender advocacy group, said it would be a welcome idea for a political party to have a woman presidential candidate. But she said such prospective candidates must "have the technical know-how, experience in the political arena and capabilities."
She said it is erroneous for people to assume that women cannot manage the country.
"If women are able to manage the men who are running the country right from the womb why can't they manage the country?" she asked.
Dr Mensah-Kutin said Margaret Thatcher of Britain, Gloria Arroyo of the Philippines among others are examples of women who were able to manage the affairs of a country like men.
"We must also start identifying potential ones in this country, groom them and then give them all the support," she suggested.