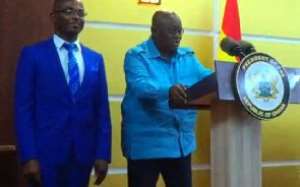 A United States of America based non-profit arts and cultural organization based in New York, the International Center for African Culture and Arts ( I.C.A.C.A.) has sent a message of congratulations to Mr. Kwamena Duncan, the Central Regional NPP Secretary who has been nominated as the region's minister designate.

The message which also contained messages of congratulations to the President Nana Akufo Addo for his good job over his appointments, was made by the President of the organization, Rev. Harold Akyeampong, a cultural advocacy expert and consultant at the United Nations Plaza, 3rd Avenue, New York, USA on January 27 during a Conference on Arts Education and Social Change.

Rev. Akyeampong commended Ghanaians especially the previous government of the NDC under ex-President John Mahama and the current government under His Excellency Nana Akufo Addo for a smooth transition and ensuring the sustenance of peace during the elections time and the post election period.

On Kwamena Duncan, Rev Akyeampong was full of praise of Nana's choice for what he calls " a stubborn" region. He said the Central region is gradually becoming a hotbed for many ministers appointed to manage it. He opined that its historical reputation for being the cradle of education in Ghana with many highly educated citizens present a strong challenge to any one appointed to the region. The Reverend said, Kwamena, who is incidentally a high school mate will never disappoint the government, he is more than able. He shared memories of Mr. Kwamena Duncan as a scholar and an excellent orator when he was in high school where both of them competed in many school debates. He was not surprised that Mr. Duncan became the darling "boy" and toast for the President's wife for his flawless and eloquence on political and social issues on radio and TV in Ghana.

Rev. Akyeampong called on all Ghanaians to bury their differences in a post election time and rally behind the government for a successful management of the nation. He also advised the President to place a gag order on many of the party officials who are always speaking unofficially for the party on radio, television as well as on social media. He said, free range speech making, radio/tv appearance without official sanctions create the impression that people can do whatever they want. He also appealed to all Ghanaians to pray for the nation and practice to be tolerant of each other irrespective of party affiliations.