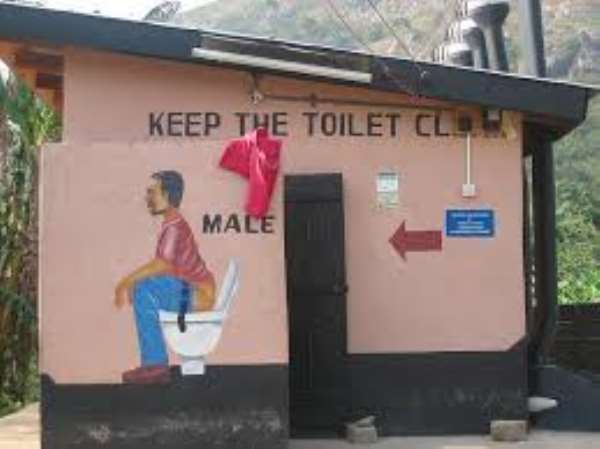 Sanitation in Accra has been a very big challenge to the city authorities. The frequent rural- urban migration coupled with the lack of opportunities in most of our rural areas has resulted in many people moving to the cities in search of non-existent opportunities. As a young man who has lived all my life in Accra, I can confidently say that the Accra I saw in my childhood is cleaner than what I am currently living in as a young man.
In the 80s Accra had just a few high rise buildings, the streets and most public places were cleaned by people employed by the city authorities, we had city guards dressed in their neatly pressed white and black uniforms who took position at vantage points. City guards helped to ensure the free flow of traffic and assisted children to cross the street safely. Our parents were mindful about their environment because they knew the consequences of an unkempt environment. Sanitary inspectors known in the local parlance as "tangas" were deployed by city authorities to ensure that the suburbs are kept clean; people who failed to clean their surroundings were summoned and punished.
In the past, the gutters were narrow and it was most often filled with liquid waste, even though there were no private waste service providers, the central points where waste is dumped was under the supervision on someone who ensured that the place is well kept. The communal spirit was high and people willingly came out to participate in the clean-up activities. This time around, you hardly see people participating in such activities. Clean up campaigns have been politicized, and people do not even want to engage in such activities.
The refrain for some people is that, because they pay taxes, the government is responsible for cleaning their surroundings. Sometimes I wonder whether people with such mentality think of their health, these "big men" are always in their four wheel drives, they are given the best medical care when they get sick, their medical bills is paid through our tax and we think they will be affected if we don't clean our environment?
In the past most houses had toilets, some were pit latrines but the pan carriers came on time to empty the pan. Sanitary conditions were not the best but the strict enforcement of the bye laws made citizens conscious of their environment. Most people will preferred to clean their environment rather to avoid being summoned by the authorities.
The situation is not the same now, with the advent of private waste collectors and waste management companies, one would have thought that the sanitation situation in the country would improve, but this is not the case in Accra. Sanitation is a big challenge in Ghana. Everywhere in the city, gutters are choked with rubbish; some houses which had toilets have had their toilets have turned these into shops. Homeless people have also converted most of these gutters into their places of convenience. Our beaches are nothing to write home about, people have turned the place into something else and are doing their own thing, the fishermen are at the mercy of our unholy practices, they are faced with a double agony of catching plastic waste whenever they go fishing or having to smell and feel the waste products of others. .
People have turned every street corner into gutters where they ease themselves without baiting their eyes. It is an eyesore to walk around places like the Kwame Nkrumah circle, Tema station, Kaneshie, Agbogbloshie and Tudu. One is met with a pungent smell anytime you visit most of these public places. Our markets and lorry parks are an eyesore, there are no decent washrooms and the few with decent ones charge exorbitant prices.
Culture of maintenance is a mirage, people are eager to charge for services that they render but fail to ensure that these facilities are kept in good shape. Accra with all the wonderful skyscrapers and architectural edifices has lost its shine. Decent People can no more attend to natures call whilst in town because there are no decent washrooms in Accra.
The Accra Metropolitan Assembly should be up and doing, they need to renovate the washrooms in our markets and lorry parks. They must also ensure that all houses in the Accra metropolis have toilet facilities, reintroduce the sanitary inspection system and ensure that most public places have clean and decent washrooms, until that is done, visitors to Accra will have no option but to pray against natures call whenever they are in town.
Mustapha Jimah