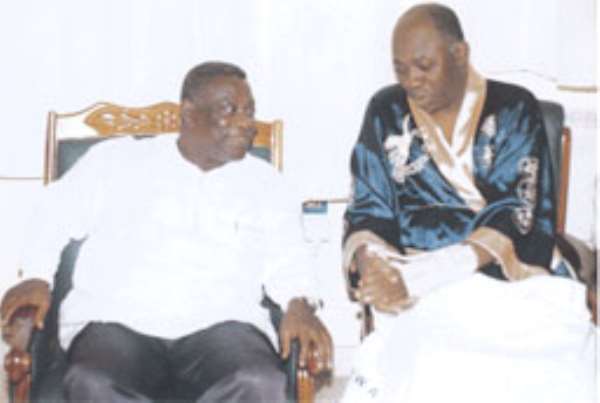 NDC running mate Alhaji Mohammed Mumuni has in his first public comments since his road accident avoided the issue of the cause, and the controversy surrounding the accident.
Controversy has surrounded the accident of Alhaji Mumuni with initial suggestions that by some members of his party that they suspect foul play.
The NDC's General Secretary, Dr. Josiah Aryeh led those attacks on the government saying the 'NDC smells an elephant in the car crash'.
Some critics of the NDC have also sought to suggest where Alhaji Mumuni was coming from before the accident.
His accident occurred less than a week after he was announced and introduced as running mate to the NDC's Professor John Atta Mills.
Speaking to JoyNews on Monday at the Korle Bu Teaching Hospital where he is undergoing treatment, Alhaji Mumuni said he could only speak publicly about the accident after making his statement to the law enforcement agencies.
"As a lawyer, I know my duty to the law; I know my duty to the state. This is, as you know, a road traffic accident. I have the responsibility to speak to the police and explain what happened, for them to investigate. I haven't had the opportunity to do that yet and I don't think I would want to breach the law by discussing this matter outside", he said.
Alhaji Mumuni broke his silence when the NDC's flag bearer, Prof Atta Mills visited him at his bed side at Korle Bu.
Pushed further by the JoyNews reporter accompaning the visiting Professor, Alhaji mumuni insisted he has a big story to tell the public but not after he has completed the necessary legal formalities.
" I know there have been a lot of speculations. There has been a lot of conjecture and of course that is quite natural because, Stan, as you know, where information is sparse, speculation is bountiful, but as I've indicated, in God's own time, I will tell my story to the police. I know you are quite keen to have answers for the issues that are spurring up, a lot of it are people's imagination but I have the responsibility to explain what happened to the people of this country and I will do that at the right time, he said.