TB JOSHUA PREDICTED THE FALL OF GBAGBO - AND TOLD HIM!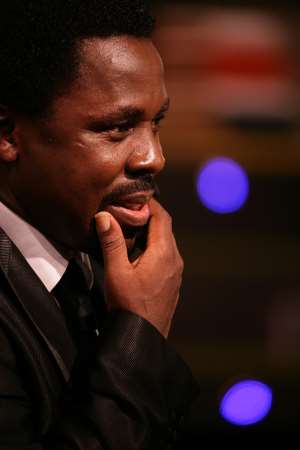 On Easter Sunday, I attended by insistent invitation from a friend (insistent because ever since I discovered that the Ivorian pastors and priests are liars, except Lézoutié Bishop, Father Benedict Kouassi, and a dozen other guides spiritual, I am wary of churches as I am of AIDS), I attended Mass prayer with Nigerian Prophet TB Joshua. It is said he prophesied the death of Michael Jackson and the Americans have laughed, saying that the King of Pop was one of the most medically monitored the planet. You must know this pastor because he prophesied about your fall. You have also sent emissaries to ask him rather to pray for your re-election because Moses Kore, Kone Malachi, Yayi Dion, Bernard Agré and company, had prophesied that you were the one that God himself had personally chosen, what that is the vote of men. For more than thirty minutes I listened to this pastor talk about the scam of your spiritual pastors, obstinate in your staff.
Prophet TB Joshua who had announced his fall to Laurent GbagboLaurent Gbagbo, took advantage of the celebration of Passover to deliver his message concerning Côte d'Ivoire.
It's The Synagogue, Church Of All Nations (SCOAN) Lagos full of Christians from various parts of the globe (Africa, Europe, America, Asia) as the famous prophet TB Joshua gave his divine recommendation to the Ivorians and the President Ouattara. "The President must forgive Gbagbo. He must forgive all, including Gbagbo. It's a tough decision, but he must forgive. Only forgiveness can heal the Ivorian nation, who is the victim of a generational curse," he said in his sermon in English. "To forgive and forget is the key. Every Ivorian should forgive his neighbor and be forgiven by his neighbor. They have seen what has happened and should move on. The lengthy trial will not resolve the problem and will cause other more serious problems," he said, stressing that it was a message of God.
As a testament that he was speaking the truth, a video of a prophecy on the Côte d'Ivoire has been proposed. It predates the post-election crisis. One hears and sees Prophet TB Joshua announce serious problems, even tragic in Côte d'Ivoire. On Sunday, April 3, a week before the fall of Laurent Gbagbo, in the same temple, he prophesied that Côte d'Ivoire would see three days of serious violence and asked his followers to pray for the Ivorians.
TB Joshua regretted the collapse of faith in Côte d'Ivoire, because of false prophets who announce events that do not occur. He said he himself had experienced the false prophecies of the pastors of Laurent Gbagbo. Indeed, he announced the fall of Laurent Gbagbo and passed it through Ghanaian President John Atta Mills, to warn Gbagbo that "God had lifted his hand from upon him." In his testimony on Sunday, he revealed that Laurent Gbagbo had sent emissaries to him asking him to pray more for him to win the presidential election, and they repeated the same prophetic message, insisting that leaves office, making no resistance. TB Joshua contends that while the envoys of Laurent Gbagbo told him that almost a hundred pastors praying for the couple of Gbagbo, had prophesied that he would win the election. "They told me I was the only pastor who argued the opposite, so I told them that time would tell." The rest is history.
André Silver Konan