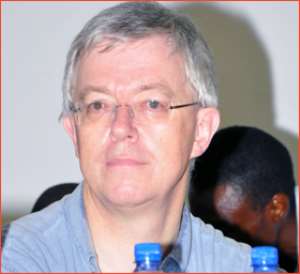 John Hardy
The Mabey and Johnson (M&J) bribery scandal that involved some six top Ghanaian politicians and provoked the resignation of two ministers and another top government functionary, has been brought to a close in the United Kingdom, DAILY GUIDE can report.
The final chapter of the multi-national corruption saga, which named  Dr. George Adjah-Sipa Yankey, one-time Health Minister; Alhaji Amadu Seidu, ex-minister in the Office of the President; Alhaji Baba Kamara, Ghana's High Commissioner to Nigeria; Brigadier General (rtd) Lord Attivor, Managing Director of Intercity  STC; Alhaji Abubakar Saddique Boniface; Kwame Peprah, former Finance Minister; Dr. Ato Quarshie, former Minister of Roads and Highways and others as recipients of whopping amounts of money paid them by M&J, allegedly for contracts received, was closed with the Southwark Crown Court slapping a £4.6 million fine and confiscation order on the British engineering firm.
While Dr. George Sipa Yankey and Chairman of the Inter-Ministerial Committee on the Metro Mass Transit Company, Dr. Ato Quarshie honourably resigned their positions, Alhaji Amadu Seidu, Minister of State, was sacked by the President.
According to a 19-page sentencing remarks sighted by DAILY GUIDE, Judge Rivlin gave a 28-day ultimatum for payment to be finalized, adding that should the Ghana government reject its share of a reparation sum, the amount should be given to the British Serious Fraud Office (SFO).
While the fines totaled £3.5 million, confiscation orders amounting to £1.1million were added in respect of Ghana and Jamaica.
"The sentence of the court will be as follows: In respect of count 1 (Ghana), there will be a fine of £750,000; in respect of count number 5 (Jamaica) there will be a fine of £750,000; in respect of count number 3 (Iraq) there must be a fine of £2 million, that is a total of £3.5 million.
"In addition, having considered the provisions of sections 71 and 72 of the Criminal Justice Act 1988, and being satisfied that the defendants have benefitted from each of these offences, I believe that it would be appropriate to make a confiscation order in respect of these offences.
Accordingly, I order that the company should pay the sum of £1.1 million by way of confiscation in respect of counts 1 and 5, and so, the overall sum to be paid by way of penalty in this case will amount to the figure £4.6 million".
The solicitor of M&J, T. Langdale, has accepted the ruling and promised to cooperate. It was, however, revealed that representatives of the government of Ghana, who were in court earlier, also expressed readiness to accept the reparation sum.
M&J, an engineering company specialized in bridging, steel fabrication, temporary work system and plant hire, had been indicted upon its own plea, in its dealings with Ghanaian, Jamaican and Iraqi government officials in the 1990s.
It accepted directly paying its agents in those countries bribes for commercial gains, which were eventually deducted from the overall commissions due the agents.
In the case of Ghana, the ruling revealed that as part of its policy of making corrupt payments, the company created what has been described as a national fund of £750,000, against which direct payment to public officials were made.
"It was euphemistically called the Ghana Development Fund. M&J knew perfectly well that proportions of this fund of £750,000 might be used for corrupt purposes.
In fact, it has been calculated that between December 1994 and August 1999, the sum of £470,792 was drawn from this fund and associated accounts, and paid over in bribes, hence the figure in count number 1.
The Ghanaian contract that may have been said to have resulted from these payments was valued at £26 million".
It will be recalled that John Hardy, a UK-based top barrister and judge, specializing in extradition and human rights matters, arrived in the country at the instance of the Danquah Institute, a local think-tank.
Even though his arrival had no direct bearing on the Commission on Human Rights And Administrative Justice (CHRAJ) public hearing into the scandal, the British prosecutor held separate meetings with Justice Emile Short, CHRAJ Commissioner, and the Attorney-General, Betty Mould-Iddrisu, where outstanding matters pertaining to the subject were discussed.
In a related development, a human rights court has dismissed an application for certiorari filed by Dr George Sipa Yankey to nullify the decision of CHRAJ to suspend its public hearing on the case.
Dr Yankey, on February 25, 2010, contended that CHRAJ's decision not to hear him constitutes a blatant violation of his human rights; but the court presided over by Justice U.P. Dery, in a ruling on the matter last week, observed that CHRAJ was right in postponing its investigations in the matter indefinitely, since six of the persons being investigated had filed an application for judicial review against it at a High Court.
Justice Dery noted that once an action had been brought against CHRAJ, it cannot ignore the order of prohibition being sought by the others, and go ahead with investigations.
Meanwhile, as part of remedial action taken by M&J following the embarrassing scandal, all its five directors, who were considered to be actively involved or have overseen the deals, have stepped down as directors and ceased to be employees of the company. 
The company further assured the SFO that it has introduced new ethical procedures, appointment of an external monitor and provision of further training for its staff.
Back home in Ghana, observers are keeping their fingers crossed in wait of the High Court's decision on the judicial review, and CHRAJ's next line of action.
Many citizens have also expressed keen interest in whether the government will eat the humble pie and accept the reparation.
By Bennett Akuaku