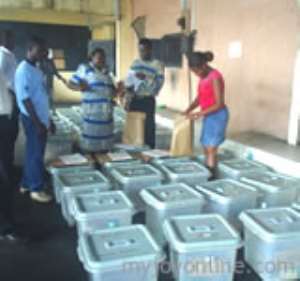 Senior Apostle Anthony Ahenkan, General Overseer of Emmanuel Salvation Church International has advised Christians to endeavour to exercise their franchise in the upcoming presidential and parliamentary elections.
He said even though the voting day fell on Sunday, Christians should combine Church Service with casting their votes, by either voting early in the morning before going to church, or exercising their franchise after church service.
Apostle Ahenkan gave the advice on Saturday in an interview with the Ghana News Agency in Accra, about his views on the December polls which fall on Sunday.
He asked Christians to give to God what was God's, and to Ceasar what belonged to him, by voting and attending church services simultaneously on December 7.
Apostle Ahenkan reminded Christians that they owed it a duty to always place the nation's welfare over and above their personal interests.
He urged politicians to sustain the peace the nation was enjoying, by accepting the results of the polls in good faith, especially when the verdict did not favour their parties.
The General Overseer reminded politicians that there was no place like home, and for that matter, they should endeavour to avoid acts that would bring chaos and anarchy into the country during and after the December polls.
Apostle Ahenkan said: "During and after the elections, we should all learn to live in peace and harmony as one people with a common destiny."
"My faith tells me that God's mighty hand is on the nation, so at the end of it all, there will be peace, stability and tranquillity," he assured Ghanaians.
He reiterated the call on the media to exercise a high degree of circumspection in their reportage, by ensuring a balanced, fair and objective reporting in order not to inflame passions.