AKWAABA TO MR AND MRS BUSH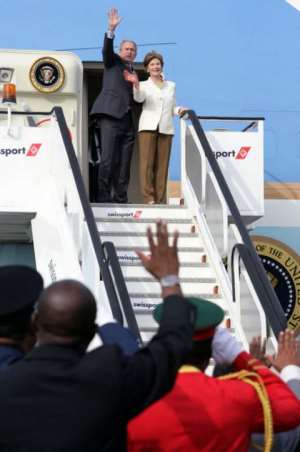 I welcome Mr. Bush and his wife Laura to the land of my birth, Ghana. I hope their three day stay in this country would be one they would relish for the rest of their life.
In fact, if God had not created a country called the United States of America, countries in Africa and others in Asia would have been suffering. Americans have always been there when we needed them.
I therefore find it disheartening when a certain group of people stand to protest unncessarily against the visit of the president of America. Where were these people when President Clinton visited Ghana? They should not forget that President Bush is the president of USA just as Clinton was. Why this uncalled-for protest? Mr. Bush has really helped Africa in several respects in terms of trade, health, education and the like.
When Mr. Bush challenges corrupt leaders like Saddam Hussein, Robert Mugabe, Hugo Chavez and the like to change their ways and help their people live in freedom, people cry foul but these are the same people who say democracy is good? What kind of hypocrisy is this? They should change their ways and let us all support a worthy cause.