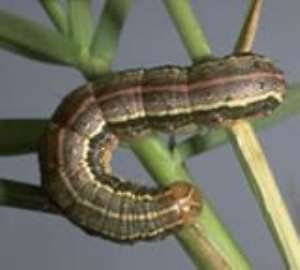 Several acres of maize farms in the Nkoranza area in the Brong Ahafo region have been destroyed by invading armyworms, local Agricultural extension officers have reported.

Mr McLawrence Ahiadu, District Director of Agricultural Services told the Ghana News Agency on Wednesday that personnel from his outfit had been deployed to the communities to study the situation and recommend the appropriate intervention.

He mentioned the worst hit areas as Ayerede and Kwasi Dweaa, near Akumsa Domase.

Last year, the District Assembly spent at least GH¢7,000 (70 million cedis) on mass spraying of farms against pests, which had destroyed about 3,580 hectares of maize farms in the area in the minor season.

Mr Ahiadu said the Assembly had already been informed about this year's pest infestation.

He appealed to Assembly Members, unit committees and officials of the National Disaster Management Organisation to promptly report any signs of pest attack on maize farms in their areas to agricultural extension officers.