Govt To Improve Roads In Cocoa Growing Areas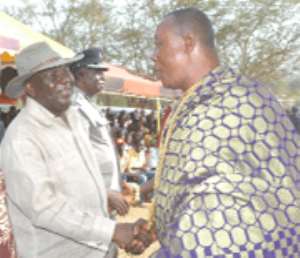 The Vice-President, Alhaji Aliu Mahama, has announced a new scheme for the opening up of cocoa growing areas to accelerate the pace of development and to prevent the locking up of cocoa in the hinterlands.
Under the scheme, "All major roads in the cocoa growing areas, especially the Sefwi area of the Western Region, will be constructed and the necessary social amenities and facilities provided to enhance the carting of cocoa from the farming communities to the harbours for export and cocoa-processing centre around the country.
Addressing durbars of chiefs and people of Sefwi Ankontombra and Sefwi Asawinso District of the Western Region, the Vice-President described the cocoa-growing areas as the food basket of the country saying, "the roads were needed for haulage".
Accompanied by the Western Regional Minister, Mr A.E.Amoah his deputy Mr Kwesi Blay and the Regional Chairman of the New Patriotic Party, Nana Owusu Ankomah, the Vice President inspected work on the ¢145 billion Sefwi-Wiawso-Benchima roads being undertaken by Interbetor BV and funded by the Government of Netherlands and Ghana, Sefwi Wiawso Secondary School; Akontombra Secondary School and Health Centre and Nsawora Health Centre.
The Vice-President also inspected the bridge over River Tano and visited victims of the March 6, 2007 accident at Asafo, and presented 150 bags of rice, 15 cartons of cooking oil and mats to them.
Alhaji Mahama also announced that 20 kilometres of the 80 kilometres Sefwi-Wiawso-Akontombra road had been awarded on contract.
He said the bridge over the Tano River constructed more than 40 years ago would be expanded.
On the complaints of abandoning projects by contractors, the Vice-President advised the regional directorate of the Ghana Highway Authority and district assemblies to help groom local contractors and give them contracts to enable them to stay in the communities.
He directed Wyba Construction and Top Target construction companies working at Wiawso Secondary School to link up with the regional minister to ensure that they work efficiently.
The regional minister said Akontombra had been adopted for special attention and development.
The Chief of Akontombra, Nana Kwarteng Ababio, said only four communities in the area had electricity.
He said telecommunications network was non-existent and called for the establishment of a cocoa processing factory in the area.
The Chief of Asawinso, Nana Adu Kwasi, called for the creation of a new district out of the Sefwi-Wiaso District with Asawinso as the capital.
Story by Emmanuel Kojo Kwarteng