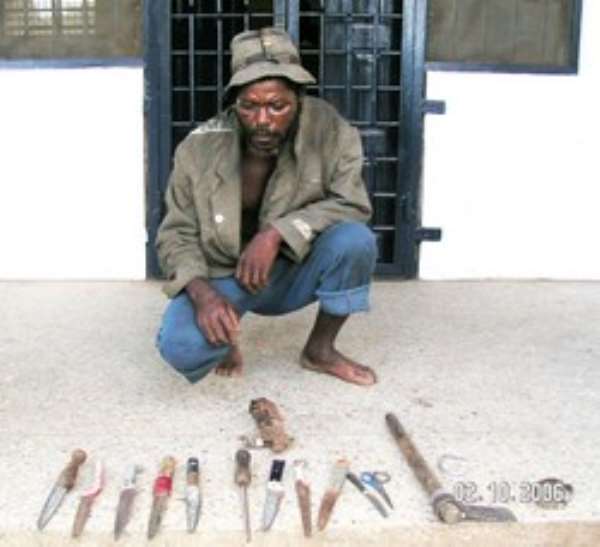 Mahalla Issifu, a suspected armed robber arrested by the Highway Patrol Unit (HPU) of the Ghana Police Service, was found to be concealing about 14 weapons in his jacket.
The weapons are made up of 10 knives of various sizes, an axe, a trap, a pair of scissors and a carpenter's file.
District Superintendent of Police (DSP), Ernest Owusu-Donkor, Commander of the HPU told the Times yesterday, that some personnel of the unit deployed for duty on the Accra-Aflao road, at the dawn of October 1, were running the Accra-Tema portion of the motorway when on getting to the Ashaiman over pass, a driver of pick-up truck, who identified himself as Anthony Dedega and his mate as well as three other people on board the vehicle travelling from Atiavi in the Volta Region reported to the team that they had been attacked by some armed robbers on the road by flattening their tyres.
He said the driver told the patrol team that when they were fixing the tyre, two men emerged from the bush, armed with knives and an axe, attacked and robbed them of their money and mobile phones.
DSP Owusu-Donkor said the two men after the robbery ran back into the bush.
He said the driver went to the Tema end of the Motorway and reported the incident to the security personnel and added that a policeman and a soldier accompanied him to the scene but they found nobody there. They therefore drove the driver and his passengers to the Tetteh Quarshie interchange to continue from there to Tudu to arrange for a vehicle back to the scene to convey their goods back to Accra.
He said while the victims were on board the hired vehicle about 50 metres from the scene, they saw someone they later identified by his coat, hat and beard as one of the robbers coming out from the bush. But as the vehicle stopped and the victims got down, the suspect ran back into the bush.
Mr. Owusu-Donkor noted that just then, a patrol team arrived at the scene and the victims reported the case to the team which went into the bush and succeeded in arresting him.
He said a search on him after the arrest, revealed the 10 knives of various sizes, the axe, the trap, a pair of scissors and carpenter's file.
He said an amount of ¢50,000 and a mobile phone said to belong to some of the robbery victims, were also discovered.