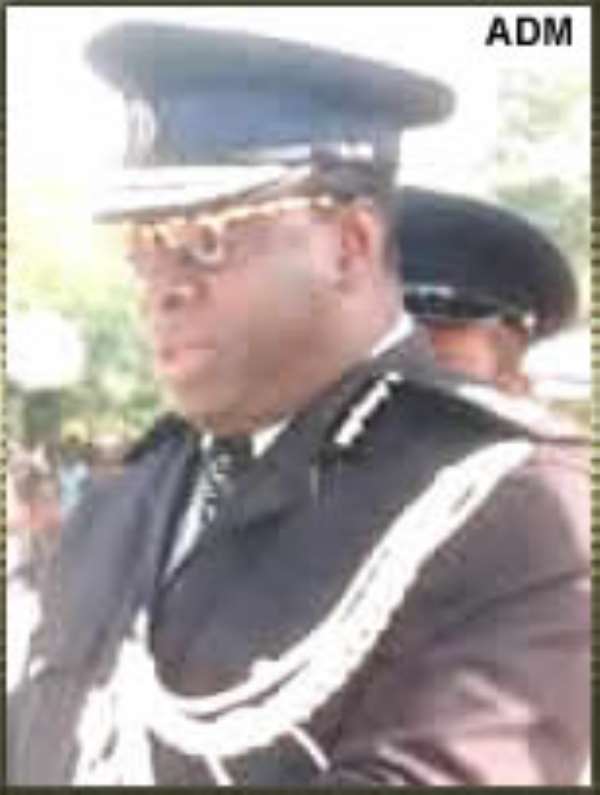 P.K Acheampong …Any re-enactment of CHRAJ`s recommendations? …IGP, Kofi Boakye, Ampewuah in prayerful mood
The Georgina Wood Committee will today make a major public announcement. It is likely therefore that the hullabaloo surrounding the ongoing Dr. Anane saga would take a back seat, when the Committee brings out its report on its fact-finding on the two major cocaine-related cases that hit the country late last year and early this year.
They are the missing 77 parcels of cocaine each weighing 30 kilograms in the MV Benjamin vessel and the various allegations leveled against some Police Officers with respect to the seizure of a quantity of narcotic drugs in East Legon.
For now, CHRAJ has made it known that nobody, no matter your position in the country is above the law, when they recommended the sack of the Minister of Transportation, Dr. Richard Anane of his post.
This ADM learnt has sent shivers into the spine of ACP Kofi Boakye, Patrick Acheampong (I.G.P) and the Director-General of C.I.D, Mr. Patrick Ampewuah, who were the major witnesses that appeared before the 'Coke' Committee during its sitting.
"The recommendation by CHRAJ asking Dr. Anane to be sacked has really put pressure on ACP Kofi Boakye, the I.G.P and the Director-General of C.I.D. They now know they are not above the law. In fact, they are scared now", a source told ADM.
ADM source can reveal that among the three personalities mentioned above, one of them would be recommended to be sacked or jailed.
For witnesses like Alhaji Issah Abass, Kwabena Amaning also called Tagor and Kwabena Acheampong, their 'life line' is very slim.
Other witnesses like Colonel Isaac Kwesi Akuoko, Executive Secretary of the Narcotics Control Board (NACOB); Mr Ben Ndego, Director of Operations of NACOB and Mr Kofi Bentum Quantson, a Former National Security Co-ordinator and the First Executive Secretary of NACOB, who testified before the Committee are likely to be freed.
Mr Francis Poku, Minister of National Security and Mr Emmanuel Kyeremanteng Agyarko, Executive Director of the Food and Drugs Board and some security personnel from the Ghana Navy and Ghana Air Force also testified before the Committee, but their testimony is seen as an advice to Ghanaians on what drugs can do to the country.