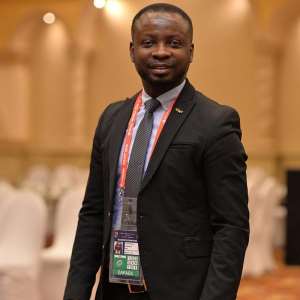 Modernghana Sports can report that Frederick Acheampong has resigned from his role as the Chief Executive Officer (CEO) for Obuasi Ashanti Gold Sporting Club (SC).
This is coming on the back of the resignation of the club's President Dr. Kwaku Frimpong some weeks ago after he was hooted at and attacked by some supporters of the club.
A statement from Frederick Acheampong on Twitter to confirm his decision reads, "End of a golden road. I have tendered in my resignation as C.E.O. of Ashanti Gold SC effective 30th April 2020.
"I have grown and learnt immensely at the club but it's time to move on for personal reasons.
"Thanks, Champion, the club and supporters for the opportunity".
Meanwhile, Dr. Kwaku Frimpong has acknowledged receipt of the resignation letter of Frederick Acheampong and will need to look for a new face to run the club after April 30, 2020.