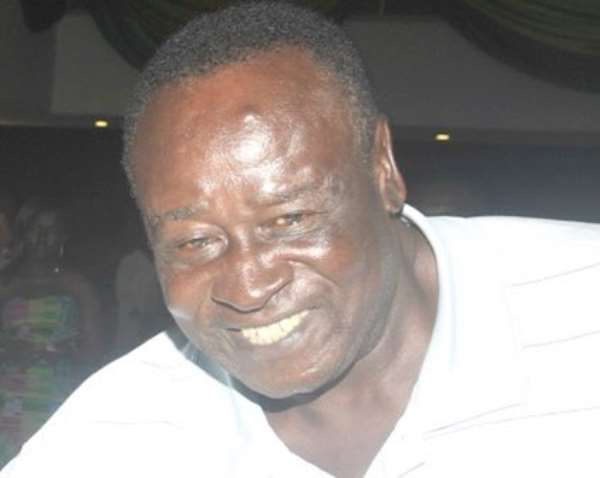 Former Asante Kotoko and Black Stars great, Abdul Karim Razak, has made a passionate appeal to the Sports Minister, Mr Isaac Asiamah, and the Sunyani Traditional Council to name the Sunyani Coronation Park after former Bofoakwa Tano and Black Stars striker, Kwasi Owusu, who passed away last month.
Known in his playing days as 'Power House' for his brute force, Owusu, died on March 30. Onetime captain of the national team, he scored 40 goals for Ghana and more than 100 goals for Bofoakwa before hanging up his boots.
Prolific, selfless striker
He is on record to have scored four goals in his maiden Black Stars appearance when Ghana defeated Niger 9-1 in Accra on September 21, 1969. His last game for Ghana came against Guinea on December 14, 1975, during an Olympic qualifier which saw him hitting a hat-trick to power Ghana to a 6-2 victory.
Describing Owusu as a calm player and one of the most prolific strikers Ghana has ever produced, Razak said the only befitting legacy Ghana could offer the football legend was to erect a statue at the Sunyani Coronation Park and name the entire facility after him.
"I know the Ghana Football Association and the Ministry of Youth and Sports will, as usual, present a cash donation, drinks and perhaps a cow to the family during his funeral, but that will not be enough.
"A donation of GH¢1,000 and a cow that will be offered to the family will not be enough because that will be the end, and his name will soon fade away would soon be forgotten," Razak told the Daily Graphic.
For the 1978 African Footballer of the Year, the late Owusu made Sunyani, in particular, very popular during his era, so naming after him the stadium where he made a name for himself will be a befitting legacy for the legend's commitment, dedication and selflessness for Ghana football.
"It is for this reason that I am appealing that the Sunyani Coronation Park be named after him as a legacy he left for Ghana and Bofoakwa Tano," Razak noted.
In paying tribute to his former national teammate, Razak recalled an incident at the Accra Stadium where Nigeria goalkeeper, Emmanuel Okala, attacked Owusu in the course of a match between the two sides.
Surprisingly, a calm Owusu did not react but rather walked away, after which the referee flashed his red card at Okala.
Razak, who featured for the national team long after Owusu retired, said the last time he saw his former teammate when he (Razak) paid him a surprise visit at his Sunyani residence, where they dined together and shared jokes about Ghana football.