Commonwealth medallists receive $26,000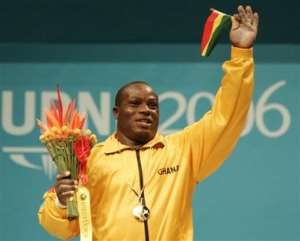 Accra, April 3, GNA - Ghana's three medallists at the just-ended Commonwealth Games in Melbourne, Australia, have received a total of 26,000 dollars from the Government through the Ministry of Education and Sports in appreciation of their performance.
Ignatius Gaisah and Majeti Fetri who won gold in the long jump and weight-lifting events respectively had 10,000 dollars each, while Awusone Yekeni, boxing bronze medallist, took 6,000 dollars.
The three were at the Castle, Osu, on Monday to present their medals to President John Agyekum Kufuor who expressed the Government's determination to build more sporting training facilities for the youth to enhance their performance at international competitions. He said it was in the light of this that all regional capitals would be equipped with modern stadiums to signify the importance given to sports.
The Government had already gone to great lengths to refurbish the Accra and Kumasi Sports Stadiums and was constructing new ones in Tamale and Sekondi-Takoradi.
President Kufuor praised the medallists for bringing honour to the country and advised them to continue to train hard, adding that he had no doubt that given improved conditions they would win more gold medals. The performance of Ghana's contingent at this year's Games was the best in more than three and a half decades. The last time the country won two gold, three silver and three bronze medals was 36 years ago. President Kufuor said the nation would acknowledge and honour deserving Ghanaians, adding that it was for this reason that Gaisah, who had distinguished himself, had been included in the list of those to be presented national awards.
Mr Charles Ayeh, leader of Ghana's contingent to the Games, said they could go places if they were supported with the needed infrastructure and funding.
He suggested a shift from the traditional events like athletics and boxing to new disciplines and noting this was the secret behind Nigeria winning more medals.