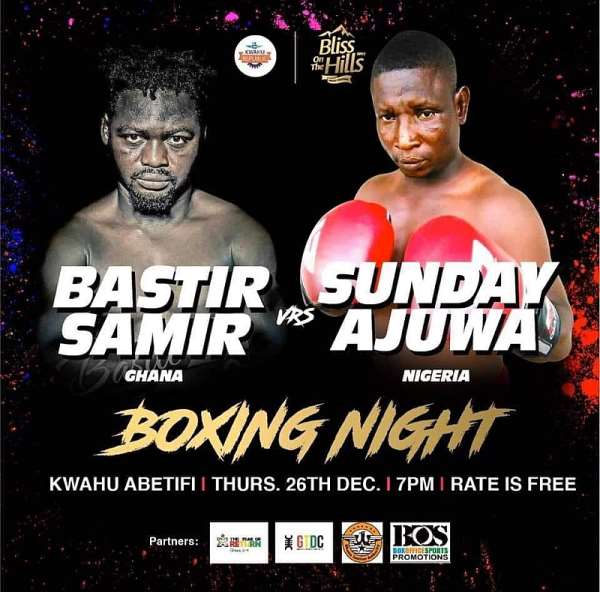 Top Ghanaian boxing trainer, Ofori Asare has described Bastie Samir as a very hard boxer to crack and it is the reason why opponents fear him.
He praised Nigerian Sunday Ajuwa for accepting the challenge to face his ward and hoped for an entertaining night to please the fans of Abetifi, Kwahu in the Eastern Region of Ghana.
Addressing the press at the final press conference, Coach Asare, the only star rated coach in Ghana noted that Bastie is now targeting title belts, as he wants to prove his worth in Africa and the world.
"There is no way this Professional Boxing Council (PBC) title belt is going out of Ghana. Certainly, it is ours, and we shall fight very hard to win and give the people of Kwahu a Christmas gift" he expressed.
Bastie Samir, the undefeated boxer with 17 wins and a draw in the USA said tonight's bout is very important in his boxing career as facing a Nigerian is another story.
He urged his fans to come and watch another demolition.
Mr. Alex Ntiamoah – Boakye, CEO of Box Office promotions said the gate fee is free because they want to promote boxing in the Eastern Region.
He appealed to the government to support the boxing fraternity so that the nation can produce more world champions.
He stressed that is is not good for Ghana, a real boxing nation, the hope of Africa in boxing to end the season without a world champion, so Bastie Samir must save the nation with a victory over Ajuwa.
The bill is full with hot boxers like Patrick Ayi aka Alligator, Alfred Lamptey aka Bukom Bomber, Emmanuel Danso aka Kwahu Mike Tyson, Sherif Quaye, Maxwell Awuku, Alfred Quaye and rising star Sampson Sagbedzi.
All boxers successfully weighed for the Bliss On The Hills Boxing Night in Kwahu Abetifi in the Eastern Region tonight.
Main event is between Bastie Samir who weighed at 176.2lbs and Sunday Ajuwa who stood at 181.2lbs for the PBC Intercontinental Light-Heavyweight Championship