Ghana Wheelchair MiniGolf President Agbesi Dedicates Award To His Mum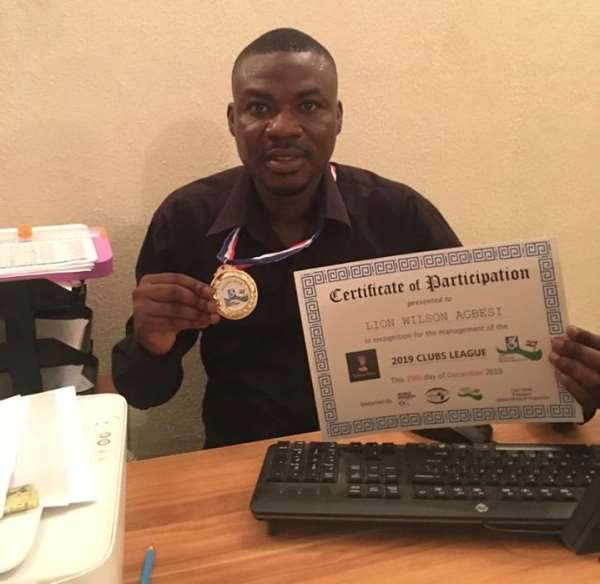 Wilson Lion Agbesi, president of the Ghana Wheelchair MiniGolf Association has expressed his sincere gratitude to all who supported him in coming up with the first-ever Wheelchair MiniGolf League in Accra.
He thanked the president of Africa and Ghana Minigolf Federation, Mr. Talal Fattal for his wonderful support and encouragement as well as the players who made the programme possible and exciting.
Agbesi also commended the director-general of the National Sports Authority (NSA) and the president of the Ghana Olympic Committee (GOC) for their inspiration and motivation.
According to Agbesi, the man with the lion heart, hard works really pays, and he dedicated his award to his mum.
"It is with Joy to announce to you all that I have been honoured on Sunday 15th December 2019 for organising the first-ever world wheel chair minigolf club's league. It is a great Joy for me to set this world record which will be a great legacy I will leave for generations upon generation. I dedicate this great honour to my beautiful and lovely Mother, Enyonam Abla Tsahey".
"Mom you have all time stood beside me, my prayer warrior, I know how I have worried you which makes you all time be in the house of the Lord praying for me, Mom I do remember days you share tears because of me for the fact that Dad use to blame you for all my messed those days.
"Mama! I owe you a lot and words can not be used to express my appreciation to you. I therefore and sincerely from my heart dedicate this honour to you. May the good Lord give you good health and long life. Love you, Mama. Cheers," he said.
Wilson Agbesi who had decided to help the physically challenged people to love and participate in sports said he is looking forward to be recognized and rewarded by the Sports Writers Association of Ghana (SWAG) who have over 40 years been rewarding distinguished sportsmen and women.