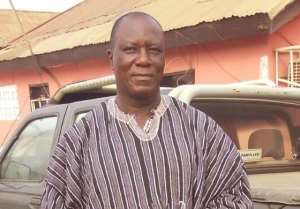 Vociferous football administrator, Takyi Arhin has described the Vetting Committee's decision to disqualify Wilfred Osei Kweku Palmer from the upcoming Ghana FA presidential elections as hallow and bogus.
The Tema Youth FC owner was disqualified on the grounds of breaching code of ethics of the Football Association and refusal to pay a sum of money to the country's football governing body after a sale of a player.
Mr Palmer's disqualification now makes it six candidates vying to succeed former Ghana FA boss, Kwesi Nyantakyi.
Takyi Arhin, popularly known in football circles as Thunder and a member of Palmer's campaign team beleives the Vetting Committee has not been fair to his boss.
"The Vetting Committee's decision to disqualify Osei Kwaku Palmer as hollow, bogus and fraudulent," he told Sikka FM.
"I am going to open the pandora box very soon.
"If you throw a stone at me, I will throw a missile at you," he added.
Osei Kweku Palmer has appealed for his disqualification with the ruling expected to be out today.
The elections is expected to be held on October 25.