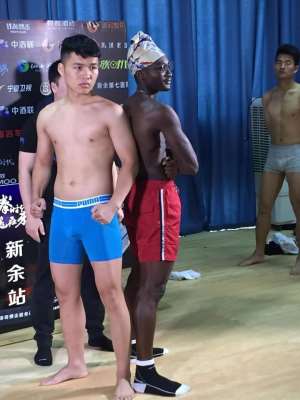 Weigh-in done: Ghana's Gerald Dah tilts the scales at 69.0 kg whilst his opponent, Zhou Xhianning came in at the exact 70 kg limit for their 70kg category kickboxing fight tomorrow, Saturday, May 4 in Jiangxi Province, China.
Gerald Dah, a former member of the Power Zone Gym in Accra is looking forward to improve upon his record and go in for big championships and titles.
The UAE based kickboxer said there are no promotions in Africa that is why he is in Asia to exhibit his skills.
The former karate and taekwondo expert said Ghana Sports can be better if government invests in sports and support all disciplines.
He asked Ghanaians to pray for him in his next fight. He also commended the Sports Writers Association of Ghana (SWAG) for naming Jonathan Euro for an award at the 44th MTN SWAG awards coming up on May 11, 2019.
"I know it will reach my turn to win a big award in Ghana, I am still fighting very hard to reach the top. Beyond the sky is my target" he said.