Duya To Release Best Arsenal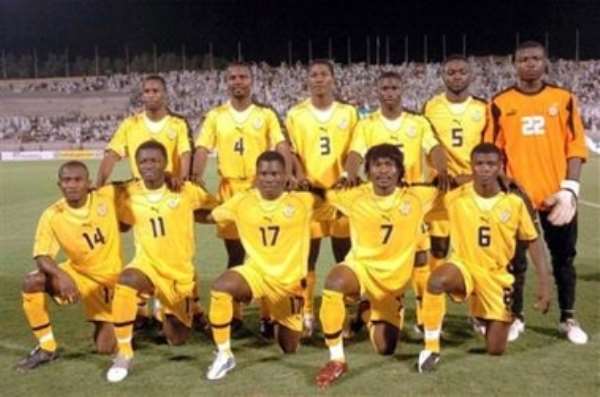 Black Stars coach, Ratomir Dujkovic, has given the strongest possible indication that he will not settle for anything short of the ultimate prize at African football's biggest gathering in Egypt next year.
Despite an earlier hint that he might rest some of his top guns at next January's African Cup of Nations tournament, the Serbian coach said that the competition will afford Ghana another opportunity to become the first five-time African champion, hence winning the African Cup in Egypt will be his next major target.
Speaking in an interview with the Graphic Sports at the M-Plaza hotel Dujkovic said while the 2006 FIFA World Cup remained a top priority, the Stars would give of their best in Egypt since the Nations Cup was Africa's most prestigious competition in which Ghana has an illustrious history.
"I said that if it becomes necessary I would rest one or two players but the Nations Cup is the most important competition in Africa and it is an opportunity for Ghana to become the first country to win the African Cup five times," Dujkovic said.
"I am aware Ghana has a strong rivalry with Nigeria and Senegal too in our group, we have to present a strong team for those big matches."
Ghana's 3-1 victory over Saudi Arabia in Jeddah recently might have excited and convinced 'Doya' to the extent that he now reckons he has a fine chance for honours in Egypt.
Now, he is talking about using such players as Chelsea's Michael Essien, who was rumoured to be a likely absentee in Egypt as a result of club hectic commitments and fear of a possible burnout.
In fact, Essien is part of a 24-man squad invited for a training camp this month in Tunisia to prepare for the Nations Cup.
"Essien has not said he won't be available and Chelsea has not requested he be excluded. I would have to first talk to him or any other player to make a decision, but the national team is a priority above all other considerations."
Dujkovic said it was important that Ghana sent a strong team to Egypt in order to avoid any embarrassment that could adversely affect Ghana's FIFA ranking as well as the team's morale and preparation for the World Cup.
His comments corroborate the view of the acting GFA Chairman, Mr Kwasi Nyantakyi, and the Chairman of the Black Stars Management Committee, Mr Fred Pappoe, who in separate interviews with this paper stressed that Ghana would take CAN 2006 very seriously.
Despite the Stars' steady progress and unbeaten run since June 5, 2004, Dujkovic admitted his team had not yet hit World Cup form and would need reinforcement and a lot of friendly games with tough teams to reach the desired form, and CAN 2006 is a perfect rehearsal for Germany.
In the run up to the Nations Cup, he hopes to observe some players outside his 'Team A' during friendly matches with North African sides like Egypt, Tunisia and Libya.
On Boxing Day, Ghana's Nations Cup preparation would be moved to top gear when the team pitch their training camp in the Tunisian capital, Tunis.
After contemplating pitching camp in Europe, the Black Stars Management Committee settled on Tunis which has similar climatic conditions as Egypt and is also easy to assemble his foreign legion before they descend on Port Said where Ghana will be based for the group stage of CAN 2006