2018 AWCON: Zambia's Shepolopolo To Camp In Nigeria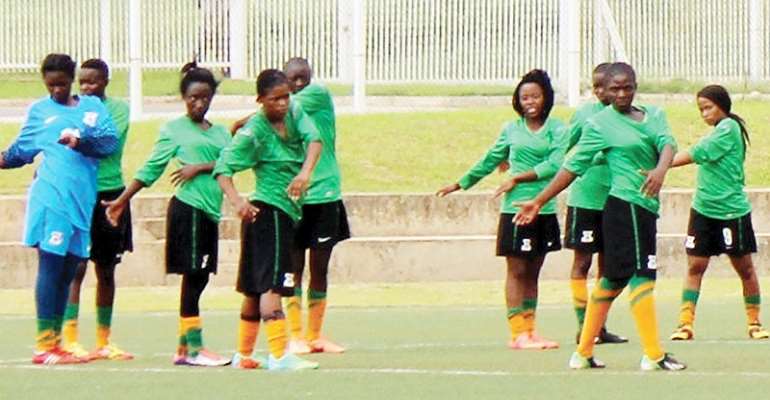 Zambia has announced a training camp in Nigeria as part of preparations for the final tournament.
General Secretary of the Football Association of Zambia (FAZ) Adrian Kashala said Shepolopolo will play a series of friendlies while in the West African country.
'You know that the Zambia women's national team has qualified to the Women's AFCON that will be held in Ghana next month," Kashala said.
'And to that effect we have organized a number of friendlies and our team will hold its camp in Nigeria in the next few weeks."
Meanwhile, coach Bruce Mwape has named a provisional 26-member to begin first phase of preparations from 14 October to 3 November in Lusaka.
Shepolopolo had earlier in September warmed-up for their second appearance at the finals with participation in the regional COSAFA Women's Championship in Port Elizabeth, South Africa, where they finished fourth.
Full Squad
Goalkeepers: Catherine Musonda (Indeni Girls), Maleta Muwindwa, Hazel Nali (both Green Buffaloes), Chiko Nkhoma (Red Arrows)
Defenders: Jackline Nkole (Indeni Girls), Lweendo Chisamu, Anita Mulenga, Martha Tembo (all Green Buffaloes), Margaret Belemu, Rebecca Nyirenda, Elizabeth Nachivula (all Red Arrows), Vast Musonda (Zesco Girls), Mweemba Lushomo (Nkwazi)
Midfielders: Misozi Zulu, Rhodah Chileshe (Indeni Girls), Mary Mwakapila (Green Buffaloes), Hellen Chanda, Prisca Chilufya (Red Arrows), Avel Chitundu (Zesco Girls), Tamara Mbewe (Green Eagles)
Forwards: Theresa Chewe, Rachael Kundananji (both Indeni Girls), Barbara Banda, Rachael Nachula (both Green Buffaloes), Hellen Mubanga (Red Arrows), Penelope Mulubwa (Zesco Girls)