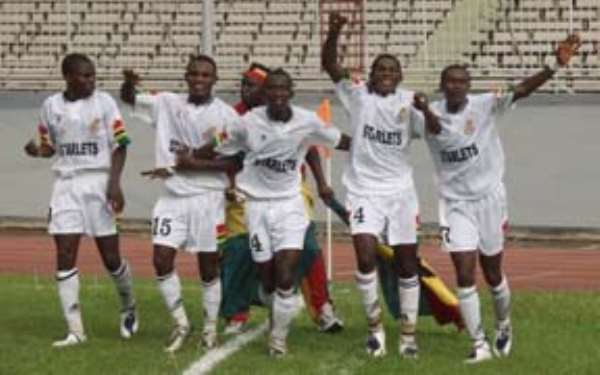 Trujillo, Peru -- Soccer funs in Lima, capital of Peru and Trujillo one of the host cities have predicted a massive win for Ghana against Peru in the opening match of the FIFA U-17 championship on Friday, September 16.
Speaking in separate interviews with the GNA Sports at the Lima Airport and in Trujillo, some of the fans said Ghana was a better side than the host nation, Peru.
Mrs Patricia Martin, a US citizen on a visit to Peru said Ghana would repeat her Equador 95 exploits and predicted a 4-2 win for Ghana. "Even though USA, my country is taking part in the tournament, the finals would be between Ghana and Brazil and Ghana would eventually carry the day" she said.
Mr Roberto Singer, Peruvian said Ghana would score against Peru, because "Ghana is next to Brazil in terms of experience, skills and stamina, we only pray that we don't conceive many goals". Ms Julissa Pachas Alarcon told the GNA Sports in Trujillo that "I want Peru to score Ghana but it is unlikely due to the experience Ghana has in soccer especially at the youth level".
Others who spoke to the GNA Sports expressed optimism that Peru would do well in the tournament even if they lost against Ghana in the opening match.
They said Ghana like other African countries like Nigeria and Cameroon were good and that they would not be surprised if Ghana wins the Cup for the third time.
Meanwhile, Ghana arrived in Peru on September 11 and are ready to bring glory to the West African country.
They are playing against Peru outside Lima the capital on Friday 08:00 local time, which is 01:00 am Ghana time.