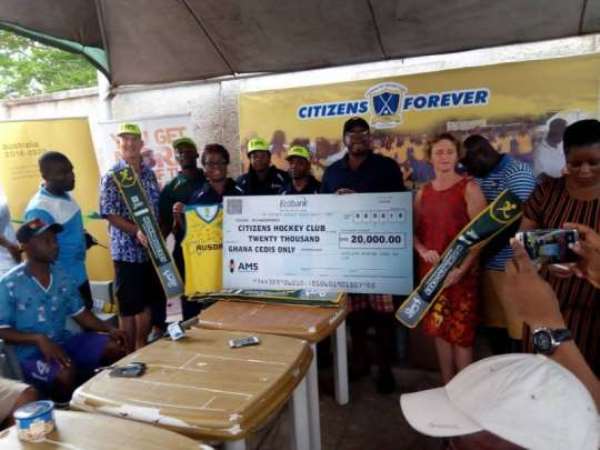 African Mining Services (AMS) and Australian High Commission have supported this year's Inter-Schools Hockey Fiesta with a sum of GH¢29,000.00.
At a presentation last Saturday at the Thoedosia Okoe Hockey Stadium in Accra, the AMS and AHC presented a cheque for GH¢20,000.00 and GH¢9000.00 respectively to this year's games slated for the 15-16 June 2018 at the same venue.
Madam Adelaide Boye, Corporate Administrative Manager of AMS, who has been operating in Ghana for over 20 years, stated their delight over the partnership as they seek to thrive the sport of hockey.
"AMS is very proud to be associated with hockey and we are happy to be part of the resurgence of hockey in country.
"The donation AMS is making today is coming from the Australian International Hockey Team, who are called the hockeyroos. We want see our donation go a long way to help the sports and we remain hopeful of continuing this partnership,'' she said.
His Excellency Andrew Barnes, Australian High Commissioner to Ghana, expressed his delight to be part of the rebuilding process of Ghana hockey as they are committed to help the sport.
'We are proud and privileged to be associated with both the Citizens International Hockey club and the inter-schools hockey tournament. We want to thank the Citizens for including us in this initiative and we congratulate them for their tremendous effort to help promote hockey in Ghana.
"AMS happen to be the major sponsors of the Australian Hockey Women's team, the Hockeyroos, so we hope this would be the start of a great relationship between Australian Hockey and Ghana Hockey,'' His Excellency Barnes stated.
16 schools from the Greater Accra Region, Central Region, Eastern Region, Western Region and the Volta Region are expected to compete in this year's hockey fiesta.
This year's inter-school hockey fiesta is organised by Citizens International Hockey Club and supported by AMS, AHC, Ghana Revenue Authority, Ghana Gas, Everpure, Ghana Chamber of Mines, So Klin, Samsang and Multichoice many among others.