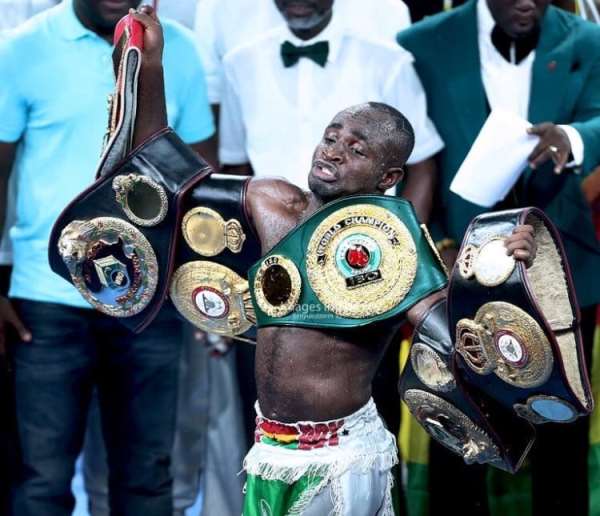 Ghanaian Boxer Emmanuel Tagoe retained his IBO Lightweight belt after defeating Argentine David Saucedo in a dramatic way at the Bukom Boxing Arena on Saturday but has been hugely criticized and slammed by many Ghanaian boxing loving fan.
The vociferous boxer left boxing lovers disappointed following some unethical incidence which occurred in the bout.
Many Ghanaians boxing loving fan who went to the Arena were left unhappy with the outcome of the bout.
Nicknamed, "Game Boy" stopped his Argentine opponent in the tenth round after some droll moments in the previous rounds where Tagoe knocked down Saucedo on two occasions.
Tagoe has been tipped to one of the greatest boxers in the country in a bizarre way displayed some dancing moves in the cause of the fight taking everyone by surprise but disappointed many Ghanaians on Saturday due to how he won the bout.
Fans who went to the Bukom Boxing Arena at the night expressed their dissatisfaction following the performance of the Ghanaian boxer.
They believed that the bragging boxer didn't put up a good show on the night despite knocking out Saucedo.
But the boxer, however, hit back at his critics saying, "I won and yet you are not happy."
With the win, Tagoe has improved his record to 27-1, (14 KOs) while Saucedo's current record stands at 61-7, (10 KOs).
Below are some of the reactions Ghanaians after the bout.
Now, it is a TKO for Emmanuel 'Game Boy' Tagoe. Called by referee Roger Barnor!!! Robbery!!! The Argentine has nothing to be shy of. He's just been robbed!!! Shame!!!

— E. K. Amoh (@kwame_amoh) January 27, 2018
I'm disappointed in Emmanuel 'Game Boy' Tagoe. No urgency to knock his opponent down, too many showboating, Asamoah Gyan's playing in the PA system...no seriousness to win this, maybe!!!

— E. K. Amoh (@kwame_amoh) January 27, 2018
Emmanuel Game Boy Tagoe's entrance song duh🤣😁

best boxing entrance song ever..lol#DefendToGlory pic.twitter.com/UrCkH4RDMv

— DestinyGh (@sizzla_joe) January 28, 2018
Today, I have seen it all.



Emmanuel Game Boy Tagoe took money from a fan and put it in his pants, on live TV. GHOne and Supersport.

😂 😂 😂

— Corporate Comic (@ComedianOB) January 27, 2018
Hmm, Game Boy Tagoe didn't impress me that much in the boxing ring last night. Want to see him against Bastie to defend the title. After all whoever wins still keeps the belt in Ghana.

— Opanyin Kojo Wilson (@grouptringo) January 28, 2018
The only "Game Boy" we appreciate is the one by Nintendo not Emmanuel Tagoe pic.twitter.com/Kuzu3V1ik8

— Toto Martial FC (@MrMakumator) January 28, 2018
Game boy Tagoe shaa waah

Wae kind fooling dis

I waste ma tym on dis Bovi vs DKB match

— Common blakk kid (@NanayawAtta) January 28, 2018
Example of waste human resources;Emmanuel Game Boy Tagoe

— Week Of The Altar (@Obiba_Nana) January 27, 2018
Oh but Emmanuel "Game Boy" Tagoe too why, all the questions that Nathaniel Attoh asked him he rather ended up thanking people..You see why education is important

— Kobina Otchere (@DeJustinho) January 27, 2018
Emmanuel "Foolish Game Boy" Tagoe

— Toto Martial FC (@MrMakumator) January 27, 2018
The Ghana Boxing Authority needs to revoke the license of Emmanuel Tagoe(Game Boy) he is not Boxer,he is a comedian he is in the same class of Bukom Banku,Ayitey Powers and the rest

— Richard ObengBediako (@RObengbediako) January 28, 2018
Today Emmanuel Tagoe 'game boy's' interview was the best I've seen 😂😂😂😂... eii brofo y3 ya... none of his answers were for the questions asked😂😂😂

— Frederick Ofosuhene (@blaqa123) January 28, 2018
It appears Emmanuel Tagoe ( game boy) is a bit rusty, he should drop the killer punch to end this bout but it is not coming

— Nana Yaw Kesseh (@fkesseh) January 27, 2018
Life is not fair, so Game Boy has a world title and Bukom Banku has none? 😳 no wonder Bukom Banku has quitted boxing.

— Mr Pacman 🇬🇭 (@pacman_4G) January 28, 2018
😂😂😂 He said "Nuumo k3 noni eshw3 eha mi" Chale Game Boy really really make ashy herh!

— Ansong Amoah Charles (@K_Ansongkwame1) January 27, 2018