Women soccer demands their share of FIFA grant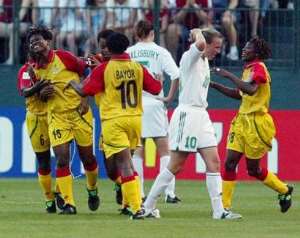 Accra, July 21, GNA - The Ghana Women Soccer League Clubs Association (GHAWSOLCA) says it is running out of patience with the refusal of the Ghana Football Association (GFA) to release their 10 percent share of the annual FIFA grant since 1999.
A statement signed by Mr. Philip de-Graft Johnson, Vice Chairman of the Association and copied to the GNA Sports said as a welfare body of the women's game, they have instructed all clubs to wear red arm bands during their league and friendly games beginning this weekend in protest.
He said FIFA was initially in 1999, allotted four percent of its annual grant given to the GFA for the development of the women's game but this was later raised to 10 percent in 2002.
Mr. Johnson said the FA over the past six years has rebuffed all attempts to collect their share, which presently stands at $245,000 calculating from the annual grant of one million dollars. He said the association is surprised with the GFA's refusal to release their portion of the money to them let alone explain what has happened to their share.
"We were amazed to hear from Mr. Sylvester Mensah, the Women League Board Chairman on the FA, stating that the GFA is about to release to his board for onward distribution to the clubs $10,000. "We want to state that this amount is woefully inadequate as there are 76 registered teams throughout the country and $10,000 shared among them would entitled each only about half a million cedis." Mr. Johnson said GHAWSOLCA is convinced from the attitude of the GFA that it want to give them a raw deal as they are not certain that the $10,000 represents the total amount the clubs are entitled to over the past six years or part payment for the running of clubs and their respective regional leagues for this year would be released. He said GHAWSOLCA would advise itself on their next course of action if the FA fails to come clear on their demands because day in and out many women soccer clubs are collapsing and fading out due to lack of resources.
The Vice Chairman said it is pathetic that leagues in the regions have hardly commenced due to lack of money to pay officials whilst moneys due them are kept at the FA.