TODAY IN FOOTBALL HISTORY… Pep Guardiola Made His Debut For Barcelona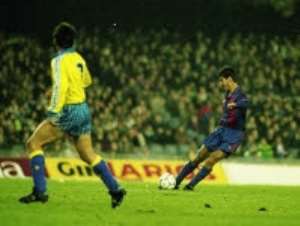 On 17 December 1990, 19-year old midfielder Josep "Pep" Guardiola made his Barcelona debut in a 2-0 win over Cádiz.
Having joined the club's youth academy seven years earlier, Guardiola started as a right midfielder before manager Johan Cruyff saw him in a reserve match and moved him to a central position. He quickly adapted to his new responsibilities and was called up to the first team for a friendly against Banyoles in May 1989.
Then, in December 1990, Cruyff gave Guardiola his competitive debut in a league match at home against Cádiz. A crowd of 75,000 witnessed the occasion, causing the young midfielder to suffer a small bout of nerves while waiting to take the pitch. But once there, he played well with a grit and determination not to make a mistake (he did pick up a yellow card in the 33rd minute for a foul on an opposing player).
Barcelona won the match 2-0 with goals from Txiki Begiristain and José Maria Bakero, then went on to win the league. Guardiola made only four other appearances that season, but established himself as a regular the following year and helped the team to another five league titles, two Copa del Rey trophies, and one European Cup before leaving for Brescia in 2001.
He returned to the club in 2007 as an assistant manager, then took full reins of the team from 2008 to 2012, winning another fourteen trophies including three league titles and two Champions League trophies.