Manny Pacquiao Promoted To Full Colonel Of Philippine Army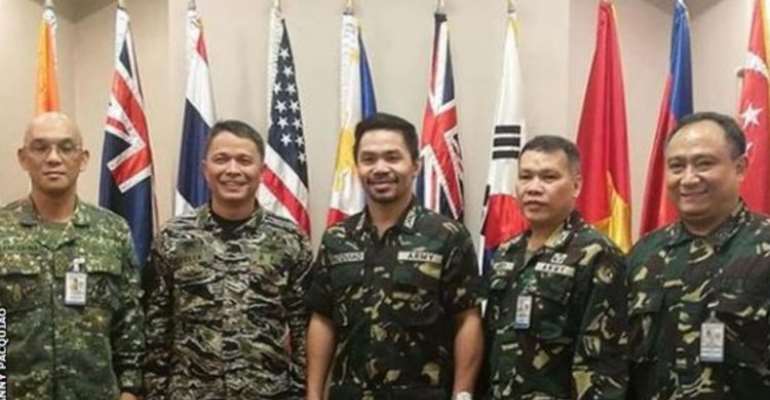 Former six-weight world boxing champion Manny Pacquiao has been promoted to full Colonel of the Philippines Army.
The 38-year-old took to Instagram to share his news and posted several snaps of him posing with members of the Army dressed in camouflaged uniform.
Pacquiao wrote: 'Today, I successfully defended my Commandant's paper to be promoted to a full Colonel.
The former welterweight champion is a military reservist and was commissioned as Lieutenant Colonel before going up in rank on Wednesday.
Pacquiao first entered the Army's reserve force in 2006 in conjunction with his boxing and political career.
He is also currently the Philippines' Senator where he assumed office in June of last year.
His duties as a Filipino senator stopped him from fighting Jeff Horn in a rematch last month after the Australian beat Pacquiao in a contentious unanimous decision to capture his world WBO welterweight belt back in July.
Despite having several responsibilities in the various different roles he is currently in, Pacquiao is planning to return to the ring next year and even recently hinted at fighting UFC star Conor McGregor.
He took to Instagram in an effort to tease McGregor into fighting him by posting a picture of him and writing 'Happy Thanksgiving! Stay fit my friend. #realboxingmatch #2018' earlier this month.