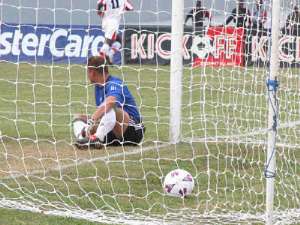 ... for Duel With Ghanaian Strikers It has been a fantastic soccer season for Supersport United goalkeeper Calvin Marlin. Yet Saturday will decide whether it ends in joy or despair, as Marlin is set to start for South Africa in their World Cup 2006 qualifier against Ghana.
A back injury to Hans Vonk has propelled former Ajax Cape Town goalie Marlin into the limelight for what will undoubtedly be the biggest game of his career thus far.
Never mind the Absa Cup final, or the three other caps he has had for Bafana Bafana, this is a game that will test his nerve to the limit. Just one mistake from him and Bafana's dream of Germany next year could be seriously dented.
Bafana know that three points against the Black Stars will give them a foot in the World Cup door, but defeat will make Ghana firm favourites to qualify ahead of them.
Marlin, however, was a pretty cool customer at training yesterday.
"I'm sure I'll be a bit more nervous than usual," he said. "But once the game gets going I'll be okay."
Funnily enough, this is the second time in their World Cup 2006 campaign that Bafana have had to use a relatively untried keeper between the posts against Ghana.
Last time, however, the experience ended in disaster for Moeneeb Josephs, as Ghana romped to a 3-0 win in Kumasi.
Marlin was on the bench for that game, and admitted he was happy he was not on the pitch.
"It's one of those games where you look up and are grateful you are not playing," he said.
"To be honest, we were lucky to concede only three goals."
The Supersport keeper also acknowledges that it will be difficult to replace the accomplished Vonk. "We'll miss his experience," said Marlin. "He's been with our defence for some time now and they've got to know each other well.
"But hopefully the time I spent with the defence against Australia will have helped us."
Vonk has a reputation for being vocal with his back four, but then so does Marlin. Few will forget his outbursts during Supersport's recent league encounter with Kaizer Chiefs.
"People were coming up to me after that asking 'What happened there'?" joked Marlin.
His shot-stopping is also excellent, and all Marlin's abilities are likely to be needed against the likes of Steven Appiah - the Ghana captain who scored twice in that 3-0 win last year - on Saturday.
Marlin, however, points out that Bafana have got a lot better since the Kumasi humiliation.
Confidence, indeed, does seem to be flowing through coach Stuart Baxter's squad, which was boosted by the arrival of Quinton Fortune at yesterday afternoon's training session.
Mbulelo Mabizela and Elrio Van Heerden were set to complete the numbers yesterday, happily giving Baxter much better preparation time than he had for Bafana's last qualifier against Cape Verde. And he could well need it.
"I don't want to miss anything, our preparation is vital," said Baxter.
Defending from set-pieces appears to be a particular concern for the coach, who said he had brought in a video of the Swedish team, in a recent international, to show to his squad.
"The way they defended from set plays was fantastic," he said.
Scoring at the other end will, of course, also be vital to Baxter, but in the absence of the suspended Benni McCarthy, at least Shaun Bartlett yesterday confirmed he was fully fit and raring to go.