Fans protest as Ghana match is put off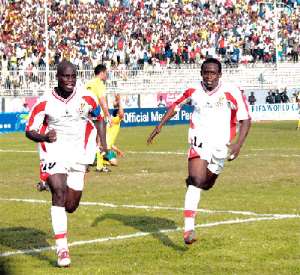 Football fans returned home angry after a friendly match between Kenya and Ghana failed to take place at Nyayo National Stadium on sunday.
Several fans, unaware the match had been postponed, reported at the venue only to find locked gates. While some of them sat dejectedly outside the stadium pondering their next move, a handful others demonstrated along Nairobi streets shouting slogans at the Kenya Football Federation (KFF).
"KFF must go. KFF is killing football," they shouted as they marched to the city centre.
KFF had issued a statement at mid-day announcing the postponement, saying most of the top Ghananian players had not arrived from their European bases.
But the angry fans believed the match failed to take place due to the wrangles in the federation.
"We know very well the wrangles in KFF had failed the match. Let them not cheat us," they said.
The most disappointed of them all was a Nakuru fan called Juma.
Juma, who is popularly known as Juju man, always spots national colours and a pot whenever Harambee Stars are in action, claimed he left a sick child back home to come for the match.
"I used money that was meant to cater for the treatment of my sick child for the purpose of Kenya/Ghana match," he said.
"KFF has let me down. We fans would never have faith in the federation," he sorrowfully declared.
And to prove that he was ready for the match, Juju man had already painted himself in national colours and with well planned graffiti on his body, all in support of Harambee Stars.
The fans were even angry no KFF official was available to explain what had happened.
The Ghana national team is in the country enroute to South Africa for the 2006 World Cup/Africa Cup of Nations qualifying match against the hosts at the weekend.