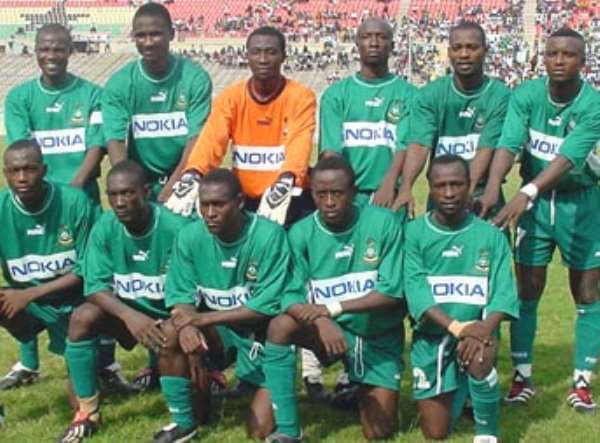 Kumasi, March 5, GNA - King Faisal beat ASC Ndiambour of Senegal 3-0 in the first leg of the Confederation Cup match at the Kumasi Sports stadium on Saturday.
The first goal of the match, which came in the eighth minute through Sumaila Alhassan enabled Faisal to take complete control of the game before the Senegalese could settle down.
Faisal after the early goal piled pressure on their opponents and nearly increased the tally two minutes later but a shot from Ben Wilson sailed over the bar.
Ndiambour accepted the challenge and tried to put their acts together but the defence of Faisal built around Mohammed Habib and Illiasu Shilla was alert to deny the attackers from doing any harm.
In the 25th minute, Ndiaye Ale of Ndiambour was injured and Niang Baye Malick replaced him but it was still Faisal who had the upper hand shooting from all angles to end the half the first half in their favour.
On resumption of the second half, Ndiambour sent in Diaw Mouhamoudou for Malick but they still found it difficult to change the trend of the game as Faisal continued to probe to increase the tally with Alhassan's powerful header going off target in the 50th minute. Faisal replaced Kwabena Poku in the 57th minute for Mark Komodi and this paid off when Eric Gawu scored the second goal in the 59th minute from a corner kick taken by Habib.
Togolese referee Soussou Komlan Jordan flagged the yellow card on Habib for rough play in the 65th minute.
Determined to reduce the tally, the Senegalese brought in Diop Dauda for Mbenge Madou in the 68th minute to strengthen their attack but it was still Faisal who were on top.
The Senegalese however came into the picture in the 78th minute fighting desperately to reduce the tally but a chance which came their way in the 81st minute, was wasted by Dieng Sidy.
Faisal substituted Eric Ansah for Alhassan in the 83rd minute and when the game was coasting to an end, Gawu pounced on a loose ball to beat two defenders and slammed the ball to the blind side of goalkeeper Ly Dauda for the third goal in the 85th minute.
The Senegalese who at this juncture were playing a pattern- less game, mounted a last minute onslaught but could not find the net to no avail till the end of proccedings.