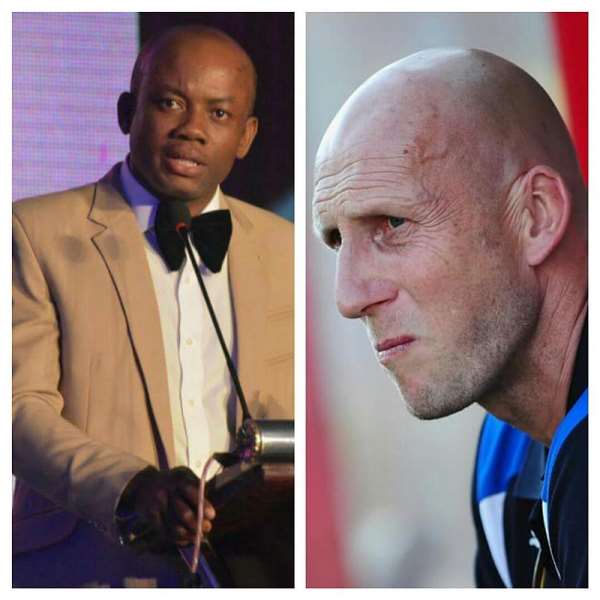 Communications Manager of Asamoah Gyan, Samuel Anim Addo has descended heavily on the manager of Championship side Reading FC for saying the Ghana captain could not land a deal with his side because he failed his medical.
Anim Addo says Stam is ignorant of the what transpired before the deal fell through and must shut up.
He blasted the Reading Manager and said he should talk with facts if indeed he is truthful.
"So Stam should shut up or face it if he really wants to defend his club. He did not know what transpired that is why he is unable to talk with authority. If he is truthful, why is he making inferences? Anim interrogated.
Anim Addo narrated that the deal fell through not because his client failed the medical but because the CEO of the club told Gyan they can't allow him to play for Ghana during the upcoming Africa Cup of Nations in January.
"I am disappointed Jaap Stam said that because the Technical Director of the club and the son of the President of the club denied the story of Gyan failing medical insisting it was not from their official website. So we just handled it that way. The demonstration of respect from the Technical Director was so marvelous that's why we have decided not to make certain things public," Samuel Anim Addo told Ghanasoccernet.com.
"We still have text messages from the Technical Director, the President of the club and his son pleading with us to convince Gyan to come back and sign after he decided not to sign because the club wanted him to stay out of national duties.
"We are not making the messages public because they are private correspondences and will be a breach of privacy."
"But, for Jaap Stam, who only came around a day before the deal fell through, to say the medical team could not lie and that Gyan was not fit is sad and disappointing because he was not even around.
"In any case, why is Jaap Stam making reference to the medical team? He should be bold and confident enough to say Gyan was not fit instead of trying to hide behind the medical team," he argued.
He added that Gyan had opened his scoring account with his new side Al Ahli in their 5-1 mauling of his former side Al Ain and that, it's enough to tell the whole world that the player did not fail any medical.
"He scored last night against his former club Al Ain and that should tell us that the story of the player failing his medical in concocted and false," he added.
Jaap Stam had said in an interview on Wednesday that the Ghana captain failed to pass his medical test with the club hence the deal falling through.
By: Sheikh Tophic Sienu @desheikh1 on twitter