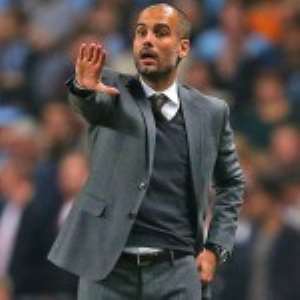 Pep Guardiola has claimed it could be two years before he achieves his ambition to manage a Premier League club, or that it may not happen at all.
The Bayern Munich manager until the end of the season has tried to distance himself from reports that his move to Manchester City at the expense of Manuel Pellegrini is a done deal.
Guardiola has also alerted the interest of Manchester United; and Chelsea are refusing to give up their chase for the former Barcelona boss's services.
But the Catalonian has stressed his sole focus is on the Bundesliga, German Cup and Champions League.
"When I sign a contract I will announce it immediately," he said ahead of Bayern's first game of the year at Hamburg.
"Maybe it will be two years until I will coach a team in England."
"I am very happy about my experience in Munich. I am working until my last second here.
"After that I will go home and wait to see if it is possible to move to England or not. If it's not, then I won't."
This week  Guardiola apologised  if his early announcement about leaving Bayern and his subsequent desire to coach in England had offended those whose jobs are now under threat.
Guardiola said in December that he would make way for a new boss at Bayern at the season's end and the club quickly announced Carlo Ancelotti would take the reins after the summer.