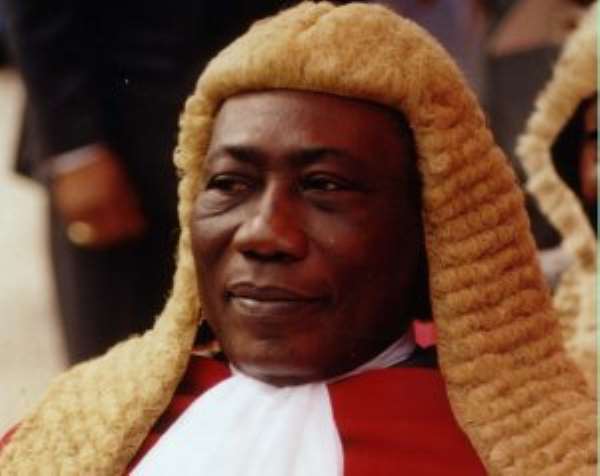 ... Full cost yet to be known Accra, Oct 25, Palaver -- SO far, documents in the hands of the 'Ghana Palaver' indicate that the Kufuor Administration has spent over £66,000 (sixty-six thousand pounds), the equivalent of ¢950 million on the cost of overseas treatment of Mr E. K. Wiredu, former Chief Justice.
This is in addition to an amount of ¢30,481,000 (over thirty million) already paid, in local currency, to the Cardiothoracic Centre at Korle-Bu Hospital in Accra, for an earlier treatment.
The foreign treatment was sponsored by the NPP Government, contrary to earlier election campaign promises that a Kufuor Administration would cancel such facilities for Government officials
According to letters of authorization for the payments, the full cost remains unknown, since a payment of £25,000 (¢348,059,887.50) made in September, represented "additional funds" for the treatment of Mr Wiredu at the Cromnwell Hospital in London.
The second instalment fo £41,294.06 (¢604,206,014.17), also covered "outstanding bills" and "additional funds", out of which £9,018 was paid as "per diem and £758.85, tools care of accommodation and bank charges.
All the payments were to be charged to the Service Expenses, and Presidential Foreign Travel Account.
The procedure adopted was similar to the one used in paying for the cost fo the overseas treatment of the Second Lady, Hajia Ramatu Mahama, which run into ¢282 million.
Only a fortnight ago, payment of little school girl, on admission at the Korle-Bu Teaching Hospital, had to launch an appeal for philanthropists to go their aid to enable them and the child overseas for treatment.
It is still doubtful whether the amount needed, a little over £3,000 has even been raised to save the life of the little girl.
In their current electioneering campaign, the NPP operatives have refused to talk about overseas treatment for Government officials, despite a challenge thrown for them to repeat their words of 2000 election campaign.