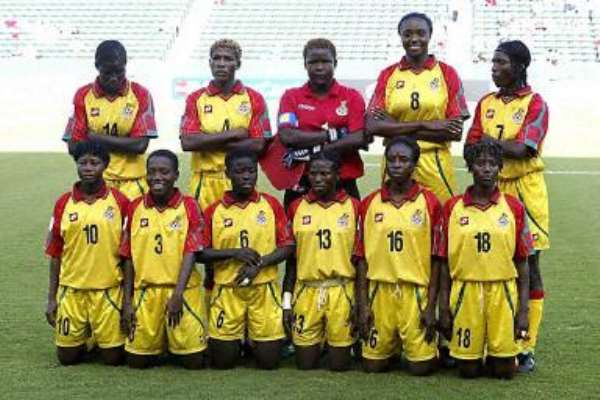 The national women soccer team, the Black Queens of Ghana this afternoon showed their superiority over their Ethiopian counterparts in the on-going 4th African Women's Cup Of Nations when they beat them 2-1 in a match that brought out one of the best performances from the Queens in recent times.
The Black Queens, parading entirely the same squad that demolished the host nation, South Africa in their epic Group A match on Saturday, needed an extra strength, speed and stamina in the dying minutes of the game before they could fetch the match-winner through substitute Bernice Asante who came on for Gloria Oforiwaa.
The Queens sprung into full action right from the blast of the referee's whistle and their efforts paid off when Akua Anokyewaa connected home an inswinger. Barely two minutes later, the Ethiopians stunned the Queens with a long range shot that beat Ghana's goalie and skipper, Memunatu Sulemana for the equalizer.
On recess, the Ethiopians piled up pressure on the Queens in a bid to snatch the winner, with the Queens also being resilient in attack with free-flowing soccer skills and artistry exhibited by the trio; Adwoa Bayor,Florence Okoe and Gloria Oforiwaa, but none could find the net until the match was almost ending in a draw when Bernice Asante warmed herself into the game and in the process, got Ghana's all-important goal which eventually saw them qualify for the semi-finals of the 8- nation women's tournament.
Line-up for Ghana: Memunatu Sulemana, Justina Tetteh, Yaa Avoe,Aminatu Ibrahim,Patricia Ofori, Anita Amenuku, Florence Okoe, Adwoa Bayor, Akua Anokyewaa,Gloria Oforiwaa/Bernice Asante, Memuna Darko.
The Black Queens are scheduled to play their last group match on Friday against Zimbabwe.