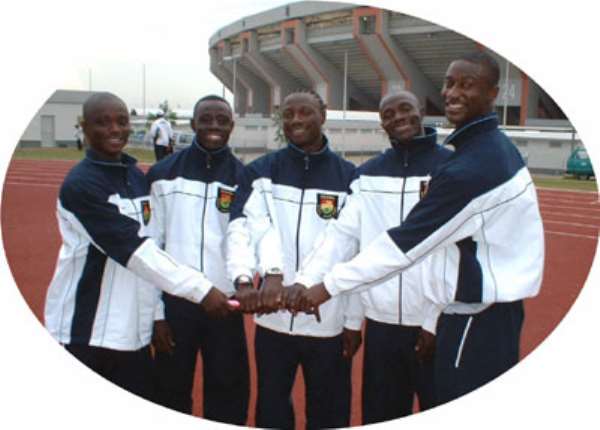 In one of her worst performances ever in Olympic history, Ghana desperately clings on to the hope to win her first medal at the Athens Games today.The nation's last hope rests on the relay team as it goes into action tonight in search of a badly-needed honour at the Athens Olympic Stadium.
From a tentative team of Christian Nsiah, Braimah Tanko, Aziz Zakari, Leo Myles-Mills, Eric Nkansah and Samuel Adade, Coach S.S. Atuahene has the duty of picking the best four who can sprint to glory and earn some honour for Ghana.When contacted on phone yesterday, Coach Attuahene stopped short of naming the relay quartet, saying that would be done today.
He, however, made it clear that everyone of them was capable of being in the quartet, but it is believed Leo Myles-Mills, Aziz Zakari, Eric Nkansah and Christian Nsiah will make up the quartet.There is no denying the fact that the Ghanaian team faces a very difficult task because of the quality of opposition it is going to come up against.
It is not going to be easy competing against their counterparts from the United States and Jamaica, especially those who have put up some good showing here so far.America's Shawn Crawford, Bernard Williams and Justin Gatlin, as well as Asafa Powell and Christopher Williams from Jamaican, no doubt, represent formidable opposition to the Ghanaian team.
Like Ghana that has found the going really tough in Athens, African superpower, Nigeria, is struggling to come to terms with her poor showing at the games. As at yesterday morning, Nigeria was yet to win a medal.Ironically, while his native country is short of glory at the games, Nigerian-born Francis Obikwelu, who now runs for Portugal, is the shining star in his adopted country's team. He has been the biggest challenge to the Americans and Jamaicans in Athens.