Nii Adjei denies plans to take Kotoko to court, lashes at report as shameful journalism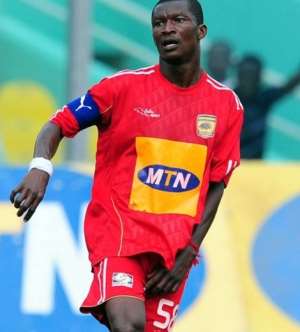 Nii Adjei captained Asante Kotoko
Ghana midfielder Daniel Nii Adjei has vehemently dismissed reports he is planning on dragging his former club Asante Kotoko to court – blasting the report as 'shameful journalism'.
The TP Mazembe player is quoted by myfinalwhistle.com as being infuriated by Kotoko's failure to pay him his signing-on fee after signing a professional contract with the side in 2011.
Nii Adjei is according to the report planning on following the footsteps of former chairman Dr. K.K Sarpong in taking the Ghanaian champions to court to retrieve his money.
But the midfielder in a Facebook rant insists these reports are untrue.
"Why do some journalists in Ghana create things they don't know about?" he lamented.
"I want the person who wrote this story to come out and tell when I told him that am dragging Kotoko to court.
"Shameful and disgraceful journalism."
Nii Adjei captained Kotoko to Premier League success in the 2011/12 season before joining TP Mazembe.