Longest serving Andre Ayew has faith in Olympique Marseille's Ligue 1 chances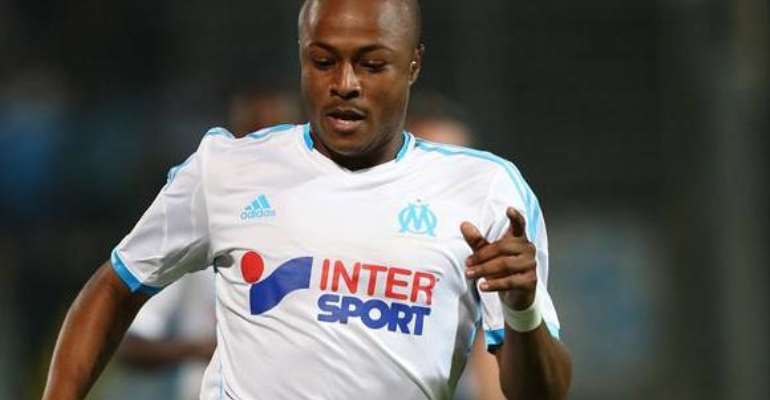 Now in his eighth season, Andre Ayew is Marseille's longest serving player. At 25, the muscular midfielder displays maturity beyond his years and yet again this season he has been one of the club's most consistent performers.
If OM have now come out of their mini-slump in form it's largely down to their dynamic Ghanaian who – despite the bitter disappointment of losing the Africa Cup of Nations final on penalties – has been setting the example again in recent weeks.
"The loss in the final versus Ivory Coast has been the baddest day in my career today. I was very disappointed and it's something that still…when I watch TV or when I see pictures of Ivory Coast with the cup, I feel very bad. But it's part of football and I need to think about my future, think about Olympique de Marseille and I know that I'm young and there are other competitions to come," Ayew, speaking in English, told The Ligue 1 Show on beIN Sports.
Faith in youth
The son of Marseille legend Abedi Pele, Ayew came through the club's youth ranks before making his debut aged 17. The Ghanaian has played with some great players during his time at OM, but he believes the current squad could become the best yet.
"There are a lot of young players in the squad but these young players have a lot of quality. I think they are the best young players we can have in France today. They are proving it on the pitch, because to play for OM there is a lot of pressure from the fans and from all over the town. So I think the young boys are doing really well," he said.
"It's true I've been here for a very long time and for me it's two different generations because I was here with the former generation with guys like (Samir) Nasri, Mamadou Niang etc, but I feel that these young players really have the power to become great players. We try to help them, to push them to give 100 percent, and you know that's what I mean about playing my role. We're about four players in the squad who have been here for a while now and we really try to help the younger ones."
'We can win league'
However, Ayew is out of contract in the summer and is by no means certain to re-sign – even if he's enjoying life under coach Marcelo Bielsa.
"Yes, I think playing under a coach like Marcelo Bielsa is great for any player, especially when you are young. He's a coach who is very tough, who wants to always go forward and I think since he has come, whether me or other players, we are learning a lot from his training sessions and from his way of seeing football.
"Well I think that the normal objective of the club is to be in the Champions League next season, but if we can do more we will try and do more because I think we have the players in the team to win the league."